Greece Information
VISITING GREECE
Collection of tourist experience promotional articles.
World's most beautiful street located in Greece - Neo Kosmos - The wining image submitted by freelance photographer Konstantinos Stamatelis, shows a narrow street in the village of Molyvos, lined with small shop fronts and a 'roof' covering formed by nature itself with the overgrowth of trees and flowers.
A winter visit to Athens offers a pleasant alternative if you've got more than beaches on your mind - National Post - The city is easy to get around by bus or metro and most major attractions are within walking distance. Temperatures in January average 50 F (10 C). Here's a suggested itinerary for a three-day visit.
Greece Maintains its Status as a Superyacht Hotspot - Yacht Charter - Greece remains at the heart of southern Europe's yachting world and, looking back on its popularity and ranking over the past 12 months, it's easy to spot the country's ever-growing appeal as a charter destination.
A Healthy Guide to Greece - Greece is - If you want purely Greek food, there are now a plethora of options for fresh, organic, gourmet and quality traditional products to choose from, from pasta and berries to rare cheeses and fish.
Greece's Chicest New (and Very Old) Beach Destination - WSJ - A road-tripping guide to the best of Greece's Peloponnesian Peninsula, home to major ancient ruins, a clutch of stylish new resorts and a secret island hideout.
Island Hopping Around The Cyclades - Huffington Post - As for beaches, there is an endless choice and it's also worth noting that every one on the island is rated as excellent quality according to the Ministry of Environment, energy and climate change. In addition, the neighbouring uninhabited island of Polyegos is known for it's turquoise waters and is accessible via water taxi.
The Top 5 Places to Visit on Your Holiday to Hellas - Santorini, Delphi, Marathon, Ancient Olympia, and Athens.
Andronikos Hotel by KLab, Santorini - There's not a sharp edge in sight within Greek studio KLab's design for the Andronikos Hotel
Greece and Italy top European luxury hotel list - Euro News
Top 7 Things To Do in Greece - Luxury Travel Magazine ...If you fall in love with this magnificent country, then why not make the move here permanently? Shopping around and seeing what could be whilst in town is a great way to get to the know the area you're staying in and to see what your money could buy.
Mykonos and Santorini among the 11 most expensive European beach resorts in August -Tornosnews - The survey compared the cost of accommodation in all European resorts during August and concluded that the most expensive destination is Playa d'en Bossa in Ibiza...
Rhodes, Greece August package just £306pp - incl. flights, 7 nights hotel & transfers - Holiday Pirates - "Ahoy Pirates! Still looking to book your summer holidays? Well we have a real bargain for you in August to Rhodes, Greece, on our package comparison tool! Of course this time of the season offers are rare to find and you need to act super quick to ensure it does not sell out!
Enjoy A Late Summer Yacht Charter In Greece And Turkey This Year - Yachtcharterfleet though the party scene may have left the region, the warm and dry climate sticks around through September and October, allowing charterers the chance to experience its charms in uninterrupted quiet.
7 things you must do in Greece - UK Wanderlust Convinced that all Greek islands are swarming with tourists? Well, think again! With over 6,000 islands and islets, it's easier to find one that matches your fantasies without the crowds. Anafi is Santoríni (just west) without the hussle or the hassle. Pserimos sits between between Kos and Kalymnos and offers white sand, green sea and a church clinging to a low cliff. Even on islands that get 'busier' in summer like Donoússa, (and we're talking relatively here), it doesn't take much to find a deserted beach or a welcoming tavern.
Straight out of a dream: Now's the best time to visit Greece's Cyclades - hindustantimes- "The geopolitical turmoil that Greece is currently facing should not deter you visit this haven of tranquillity in Southern Europe. In fact, there is no time more opportune than now as a fall in bookings has led many hotels to cut prices already."
From party animals to families, Greece's Cyclades have something for everyone - Euronews - A top destination for summer vacations, Greece is suffering from the geopolitical situation this year. But holidaymakers would be wrong to shun this haven of tranquility in Southern Europe as a fall in bookings has led many hotels to cut prices already. Anyone keen to snap up a bargain break can head to the Aegean Sea where Greece's Cyclades islands have something in store for all kinds of travelers.
9 foods that prove it's possible to be a vegetarian on holiday in Greece - BT Online - We have a look at some of the country's most traditional natural produce to show there's more to the national cuisine than a lamb kebab.
5 Best Traditional Coffee Houses in Greece - Greek Reporter - hidden in picturesque squares and narrow streets... generously offering locals and foreign visitors all those cultural and social elements [of] genuine Greek hospitality
Eating Out in Greece. 10 Ways to Eat Like a Local - HuffPost You can eat like the locals and by knowing what to expect...
'My Big Fat Greek' holiday - USA Today Travel tips from the stars. Who better to ask about a Greek vacation than Nia Vardalos?
---
GREEK GOVERNMENT
Greek Government 2015 (July Syriza government under Tsipras)
Greek Government 2013 (June reshuffle under Samaras)
Greek Government 2011 (reshuffle under Papandreou)
---
ECONOMICS
Summary of the midterm Troika plan
Economic Salvation circa 1990s
Elstat Greek Statistical Agency
Who is holding Greek debt? June 2011
---
FAMOUS GREEKS
---
GREEK HISTORY
Colonel Fabvier in Greece
---
Xenophobia
Racism, Anti-Semitism and Xenophobia in Greece
---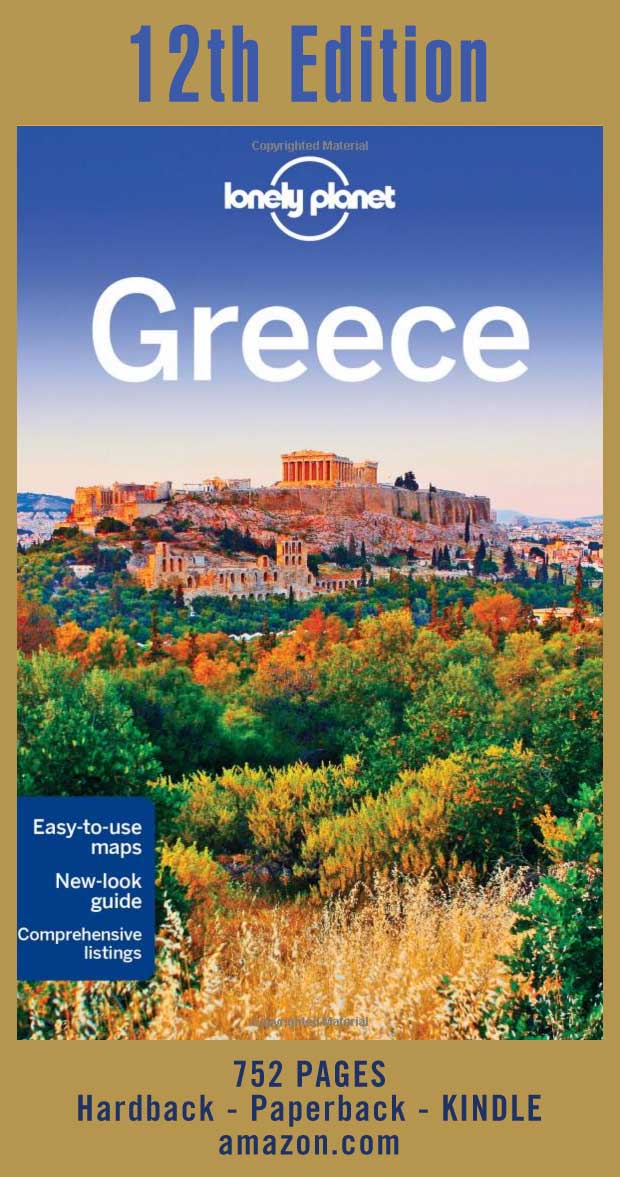 ---
---
---