Greece and the economic crisis
---
August 19, 2017
Fitch upgrades Greece's credit rating by 1 notch to B- - CNBC
"A Fitch statement adds that other European countries using the euro currency are expected to grant Greece substantial debt relief next year. It says that will boost market confidence and help Greece finance itself directly by issuing bonds after its current bailout program ends in a year. Fitch said late Friday that Greece's political situation has become more stable and there is "limited" risk of a future government reversing bailout-linked austerity and reforms."
---
Pensioners set for another blow - eKathimerini
"In some cases, pensioners will receive 30 percent less than what they would have received had the Katrougalos law not come into effect. The overall reduction is estimated at 12 to 16 percent. The hardest hit will be civil servants, especially those who have worked for more than 30 years and belong to the categories of University and Technological Education."
---
August 18, 2017
Greece Wants to Reclaim Greek Yogurt - Food and Wine
"The value of the American market for Greek yogurt—driven by well-known brands like Chobani—is estimated to be heading toward the $4 billion mark. And yet the vast majority of that yogurt has never actually been anywhere near Greece. (Chobani, for instance, is based in New York.) People understand that Greek yogurt is a style of yogurt – distinguished by its thicker consistency, a result of straining out whey. But now, like many geographic regions which have had their namesake products coopted, Greece is looking into reclaiming its yogurt.

Greece's Ministry of Agriculture is setting up a 14 member team to investigate Greek yogurt production and eventually apply for the name "Greek yoghurt" (and "yogurt"—one letter won't get you off the hook) to receive a Protected Designation of Origin (PDO) and Protected Geographical Indication (PGI) with the European Union Register, according to Dairy Reporter. If the request is accepted, all "Greek yogurt" sold in the E.U. will have to actually come from Greece."
---
Eurostat: Greek inflation steady at 0.9 pct in July
"In the Eurozone, annual inflation remained stable at 1.3 percent in July, compared with last month. In July 2016 the rate was 0.2 percent. European Union annual inflation was 1.5 percent in July, also stable compared to June."
---
Finance Ministry is not worried about the revenue despite the July delay - Naftemporiki
"... despite the delay of 730m euros in the revenue side in July, this year's budget will close within forecasts, a high-ranking executive of the economic staff spoken by Naftemporiki.

The same official admits that there was a significant lag in the previous month, especially in the income tax receipts of individuals, but adds that there is a time lag to be covered by other sources of income, for example the income tax...

...achieving this year's primary budgetary target of a 1.75% primary surplus should be taken for granted despite the revenue gap in the 7 months. In spite of the fact that it is still too early to secure forecasts, it argues that the year can be closed with a primary surplus of 2%, or even a slight excess over the target set in this year's budget (1.8% GDP)."
---
Wild weather patterns hitting summer crops hard across Greece - eKathimerini
"Farmers say weather patterns in recent years have been unprecedented and blame climate change. The Greek Agricultural Insurance Organization (ELGA) is unable to pay for all the crop damage farmers across the country have sustained. "We ask to be compensated, but despite the fact that the law stipulates it, ELGA is trying to avoid it by interpreting certain provisions differently," says Giannakakis.

According to the Pomology Institute of Naoussa, more than 90 millimeters of rain fell on the plains of Imathia within just 48 hours on July 16 and 17. That's compared to an average monthly rainfall for July of just 33 millimeters. "The heavy rains caused a lot of fruit to fall from trees prematurely and shrivel up," says Giannakakis."
---
Greek woman among those injured in Barcelona terrorist attack - Capital GR
"According to the official information from Spanish authorities so far, a Greek citizen is among the injured," the ministry said, adding that Greece΄s embassy in Madrid and the personnel in the Greek consulate in Barcelona are in continuous communication with Spanish authorities and are offering consular assistance.
---
August 17, 2017
Macron Adds Greece to Europe-Focused Agenda After Summer Break - US News
"President Emmanuel Macron will visit Greece from Sept. 7-8, a source in the Elysee Palace said, as he seeks to build momentum behind a drive to deepen European integration."
---
About sea frontiers - eKathimerini
"...While Greece was burning, Turkey's Foreign Minister Melvut Cavusoglu decided to stir tensions in the Aegean by claiming that there are no sea borders between Greece and Turkey, prompting a swift and unambiguous response from Athens.

..There may be many ways of interpreting this behavior. One is that Ankara has put the matter of "gray zones" in the Aegean on its agenda. There may be consequences that Athens will have to bear in the event of an precise sea border delineation, as certain islets may be handed over to Turkey."
---
Greece Should Copy New Zealand's Dramatic Policy Reform - Foundation for Economic Education
"...New Zealand made a radical shift to free markets in key areas such as agriculture, trade, fisheries, and industry.

...To give you an idea of New Zealand's overall deregulatory success, it is now ranked first in the World Bank's Doing Business.

...[it] occurred to me is that New Zealand's reforms are – or at least should be – a road map for Greece to follow.

..New Zealand ranks #3 for total human freedom, trailing only Hong Kong and Switzerland."
---
August 16, 2017
Fire-hit Greece calls off EU help as PM says conditions improve - citizen.co.za
"The worst has been avoided," Tsipras said after flying over the disaster zone northeast of Athens by helicopter, adding that about 3,700 acres (1,500 hectares) of forest and scrubland had been ravaged.

"Fortunately there are no victims… the damage was limited through your superhuman efforts," Tsipras told firefighters.

Authorities said they had finally placed under control a huge wildfire in Kapandriti and Kalamos that had broken out on Monday in an area dotted with vacation homes."
---
Firefighters contain destructive wildfire near Athens - eKathimerini.com
"Prime Minister Alexis Tsipras, who visited the scene on Wednesday, said Greece had "avoided the worst ... and we have to be alert."

Greece withdrew its request for help from its European partners after conditions in Athens improved, but authorities were on alert for new outbreaks.

Late July and August often see forest and brush fires in Greece, where high temperatures help create dangerous conditions."
---
Greece seeks EU help as wildfires rage - NY Daily
"The fire started in Kalamos, a coastal holiday spot some 45 km (30 miles) northeast of the capital, and has spread to three more towns, damaging dozens of homes and burning thousands of hectares of pine forest. A state of emergency has been declared in the area.

"The blaze is advancing with great speed. Because of the scale and intensity of the wildfires, the country submitted a request for aerial means," fire brigade spokeswoman Stavroula Maliri told a press briefing."
---
Lycabettus Hill from Areopagus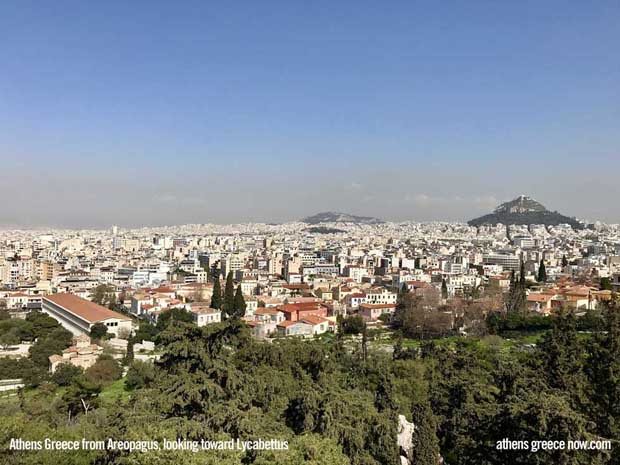 ---
August 15, 2017
Strong winds rekindle fires in Kapandriti - Protothema
"Hopes of containing the large fire front stretching from Kalamos to Kapandriti in northeast Attica are slim, despite the efforts of a large number of firefighters, local residents and volunteers, as winds have picked up notably stoking the raging flames in the forest areas. The wildfires, which started on Sunday, continue to burn through forest lands and are now threatening the areas of Polydendri to the west of Kapandriti and Malakasa. A little after midday on Tuesday, high winds rekindled small pockets of forest fires as firefighters had set up fire-safety zones along the front at the clearance of the Metochi gorge."
---
Greece arrests 3 suspected migrant smugglers - ABC
"Greek authorities say they have arrested three men on suspicion of ferrying 69 refugees or migrants on a yacht to the island of Zakynthos off the western coast of Greece's mainland.

The coast guard said Monday the people landed on the Ionian Sea island included two women in an advanced state of pregnancy who were taken to hospital for treatment."
---
My love affair with Greece just started - nation.co.ke
"...when you leave your bag with a passport on a bus and realise it 20 minutes after the bus is gone, you can follow the bus and your bag will be in the exact same place where you left it. Where you wake up to riotous chirping every morning and a sun that starts baking at a cool 25 degrees. Where most people welcome you with a smile because they know you are a clueless tourist and so the colour of your skin is to your advantage - and they almost always ask where you are from, and try and relate it to Obama, or a footballer, or some other African connection."
---
August 14, 2017
Greek Jan-July gov't budget surplus beats target on lower spending -eKathimerini
"The central government surplus excludes the budgets of social security organizations and local administration. It is different from the figure monitored by Greece's EU-IMF lenders but indicates the state of the country's finances."
---
Regling: Greece can become a success story - capital.gr
"ESM's chief , Klaus Regling, said in an op-ed to a German ...He stressed that Greece can also become a success story, if the government sticks to the agreed reforms; the ESM's extremely favourable lending conditions - with interest rates of 1% and loan maturities of more than 30 years – enable it to overcome a deep crisis without costs for taxpayers in other euro area countries."
---
Greece: "We export 45 million kilos of peaches to the rest of Europe" - freshplaza
"Peaches are one of the most cultivated fruits in Greece and have a notable presence on the European continent. "In our case, we export to different markets with different peculiarities," explains Lagios. In fact, this Greek company ships its peaches to Poland, its main market; India, where they are transported by plane; the area of the Balkans; Lithuania; Moldova and Italy. "There's a steady flow of 3 to 4 trucks a week until the end of the season." However, they also leave part of the production for Greece, as this fruit is distributed among various hotel chains in the country, as well as by stores."
---
Firefighters battle large blaze near Grammatiko, partially contain another in Zakynthos - eKathimerini
"The fire was close to residential areas in Grammatiko and neighboring Kalamos and Varnavas, eastern Attica.

The constant changes of wind direction was taxing the efforts of firefighters, a spokesperson for the fire service, Stavroula Malliri, told Kathimerini."
---
Greece: Wildfires rage in holiday town near Athens - armradio
"More than 160 firefighters supported by water-dropping helicopters and planes were sent to the region, about 45 kilometers (30 miles) northeast of Athens, as strong winds helped the blaze to spread through pine forest to the nearby town of Varnavas."
---
August 13, 2017
Greece Getting Protective with its Yogurt— Finally - Pappas Post
"In simple terms, if PGI/PDO status is granted, that means that unless yogurt is made in Greece, with Greek milk, produced by Greek cows breathing Greek air and eating Greek feed— then it can't be called Greek yogurt.

This is only limited to the European Union and won't affect "imposters" (as many Greeks call them) producing what they call "Greek yogurt" in the United States, including companies like Chobani, Yoplait and dozens of others."
---
Fire in Old Kavala - Radio Thessaloniki
"Fire occurred just before 11:30 am in a forest area near Old Kavala. At the point of fire, vehicles from the Fire Brigade have been hurried from the very beginning while they are operating from air and two PZLs and two Canadair. "
---
Spartios: "Western Greece has untapped potentials" - High Speed Train for Patras - toxwni.gr
Online Interview:
"When the train reaches the new port, which will have to acquire its commercial section, then Patras will have a port that will have the large comparative advantage compared to other ports not only of Greece but also of the Adriatic , To be connected by rail. This is a very positive development for the city and for the whole region, because the port of Patras will be able to get a big commercial move that does not have it today."
---
Government, main opposition, exchange jibes over OASTh appointments - Capital GR
"ND chooses to attack in an inappropriate and defamatory manner a man whose history and course are light years away from the standards of the party cadres their government used to nominate. Stelios Pappas has a long history in the democratic and democratic movement and an important professional experience in the private sector, while at the same time being president of the Economic Chamber, with universal acceptance by all the parties," [prime minister΄s office said in a press release.]
---
August 12, 2017
UK navy calls off Aegean exercise - eKathimerini
"In what appears to be an effort to steer clear of Greek-Turkish tensions, the British Royal Navy has reportedly canceled a scheduled military exercise off the southeastern Aegean island of Karpathos, which had been announced in a navigational telex (navtex) issued by Ankara, to the outrage of Athens.

...Meanwhile, Turkish naval activities off Cyprus's coast are set to continue after Ankara issued another navtex yesterday, reserving an area that borders the island's EEZ for a military exercise on August 17."
---
British sailing instructor, 19, dies in Zakynthos, Greece - BBC
"Harry Byatt, who worked in Zakynthos, an island in the south-west of Greece, failed to resurface after diving into the sea, his employer said.

The former Eastbourne College pupil's body was found on the seabed at a depth of around 98ft (30m) on 6 August."
---
New electronic traps against tax evasion - Naftemporiki
"This project, which is in the final phase of implementation, includes crossing all banking transactions in Greek and foreign banks of tax evasion suspects, using special software for automating the collection of taxes and seizures, as well as data collection from external sources to identify assets.

...New case management system to reduce Justice Ministry appeals when not qualified. It should be noted that in order to avoid greater losses from state revenues, the competent authorities were instructed to make compulsory recovery measures against the debtors of the State, such as a seizing 100% of deposits... as well as bank safes in order to prevent debts from being classified as uncollectible. This is because if a debt is classified unachievable, then the tax administration abandons further attempts to collect and the name of the debtor is removed from the published list of the debtors of the State. "
---
August 11, 2017
Regling blames public administration for Greek woes - eKathimerini
"In an op-ed published in Frankfurter Allgemeine Zeitung newspaper, Regling compared the experience of Ireland, Portugal, Spain and Cyprus, where the financial adjustment programs were brought to a "successive conclusion as he said," with the situation in Greece, which he described as a "special case."

"In no other country were difficulties so big and the public administration so weak," he said of Greece.

"This is why efforts to stabilize [the country] have yet to be completed after seven years of austerity," he said."
---
Spain could top Greece for 2017 migrant sea arrivals, as video emerges of beach being 'stormed' - UK Telegraph
"African migrants are also increasingly setting their sights on Ceuta, a Spanish enclave in Morocco which has seen a 230 percent rise in arrivals in recent weeks. On Wednesday, authorities there said they had closed the border to trade for a week in order to cope with with the surge, after a string of mass incursions through its security fence."
---
August 10, 2017
Elstat new statistics - Elstat
Elstat (Hellenic Statistical Authority) reports new numbers for Greece:
Inflation 1.0% July 2017/July2016

Gross Domestic Product 0.4% 1st Quarter 2017/2016

Unemployment Rate 21.7% May 2017

Exports 11.8% June 2017/June 2016 Retail Trade 0.3% May 2017/2016 Volume Index

Building Activity -22.4% May 16 - May 15 - 16 Volume in thousands m3
---
Many Cyclades museums require upgrades due to growing collections, visitors - eKathimerini
"The biggest such renovation project is currently under way in the Kastro district of Naxos town. "Besides the fact that the archaeological museum draws far more visitors than it was originally designed for, the collection has grown too," Athanasoulis explains. The exciting plans foresee the creation of a museum village: Three medieval buildings are undergoing renovation and will house artifacts spanning the prehistoric to the Byzantine period. The current archaeological museum building will feature ancient and Classical era items. The Glezos Tower will showcase medieval and Byzantine artifacts and the Prompona mansion will be transformed into a museum of Cycladic culture.

The Ephorate's chief also draws attention to the in situ character of the island museums. "In Athens, for example, we see figurines which have been taken out of the environment where they were discovered. On Naxos, though, the exhibits are part of an excavation trying to produce a more complete picture of the way people in the Aegean region lived during various parts of history."
---
Old Stadium in Athens Greece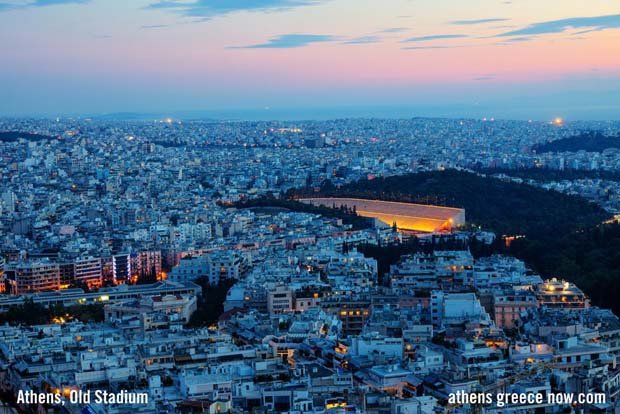 ---
August 9, 2017
Athens seeks Protected Destination of Origin for 'Greek yoghurt' in EU - Keeptalkinggreece
"Following a proposal by the Association of Greek Breeders, the Greek ministry of agriculture established a 14-member working group which will prepare the technical details of an application for registration of the name 'Greek yoghurt' under the EU food quality schemes to get a geographical indication.

Particularly, Athens is seeking to ensure a Protected Designation of Origin as well as a Protected Geographical Indication for its yoghurt."
---
Workers face 4 percent contributions for ETEAP - eKathimerini
"This means that around 250,000 Greeks who were first employed before January 1993 and now pay lower contributions, including hotel and municipal workers, will not see these amounts rise.

For wage earners insured after January 1993, the 4 percent is calculated based on the portion of their income that is subject to social security contributions. For the self-employed, the 4 percent applies to their entire income."
---
Greek trade deficit down in June, up in H1 - Capital.gr
"The statistics service, in a report, said that the value of import-arrivals totaled 3.877 billion euros in June, from 3.640 billion in June 2016, for an increase of 6.5 pct (excluding oil products imports grew 3.9 pct while excluding oil products and ships imports grew 3.8 pct), AMNA reported.

The value of export-deliveries totaled 2.379 billion euros in June, from 2.128 billion in June last year, for an increase of 11.8 pct (excluding oil products exports grew 10.7 pct while excluding oil products and ships exports rose 11.5 pct)."
---
August 8, 2017
EU nations start process of returning migrants to Greece - ABC
"EU rules oblige migrants to apply for asylum in the country they first entered. But the requirement was put on hold as hundreds of thousands of people, many of them Syrian refugees, reached Greece on boats from Turkey in 2015.

The EU's executive arm recommended in December that member countries gradually resume sending unauthorized migrants who arrived after March 15 back to Greece, which often is the first point of entry to the 28-nation EU."
---
Greece could threaten to block our Brexit deal with the EU unless Britain hands over the Elgin Marbles - UK Sun
"Mr Kouloglou has twice written to the European Commission for them to play a part in Brexit talks – and hinting that if they are not they may be used to hold up a deal.

He said: "Brexit negotiators must take into account the need to protect European cultural heritage."
---
Greece slams celebrations of Cyprus bombing - eKathimerini
"Some 900 Turkish Cypriots were bused through the Limnitis checkpoint Tuesday to the Kokkina enclave to take part in celebrations. The 1964 bombings targeted residential areas and a hospital, killing more than 50 people, including 19 civilians."
---
Reshuffle rumours surface as Tsipras prepares plan for autumn - Macropolis
"Prime Minister Alexis Tsipras has been meeting his ministers ahead of the brief summer break, fuelling speculation that he may make changes to his cabinet in the coming weeks."
---
Heat wave continues - Tornosnews
"High temperatures will be recorded mainly in the Ionian Sea and the mainland regions, reaching up to 39 degrees in Macedonia, Thrace, Thessaly and Eastern Peloponnese.In Athens, the weather will be hot, with temperature reaching up to 38 degrees Celsius."
---
ELSTAT suspends quarterly flash estimates on GDP; media speculate - Keeptalkinggreece
"The move means that flash data will not be issued on Aug. 14. Nationwide quarterly GDP data will be released on Sept. 1, taking into account more information than the early indicator of the flash estimate.

...Reuters notes that there have been considerable differences in the past two quarters between flash data, issued 45 days after the lapse of the reference period, and provisional data that follows and is released within a 60 day period."
---
What about ELSTAT? - Liberal GR
"...If there is even a small chance for someone in the government to decide to impose a prohibitive publication of ELSTAT data in order not to disturb the success story in the economy, it will be an unprecedented intervention and a major political issue."
---
---
Athens Burning: The Persian Invasion of Greece and the Evacuation of Attica - 184 Pages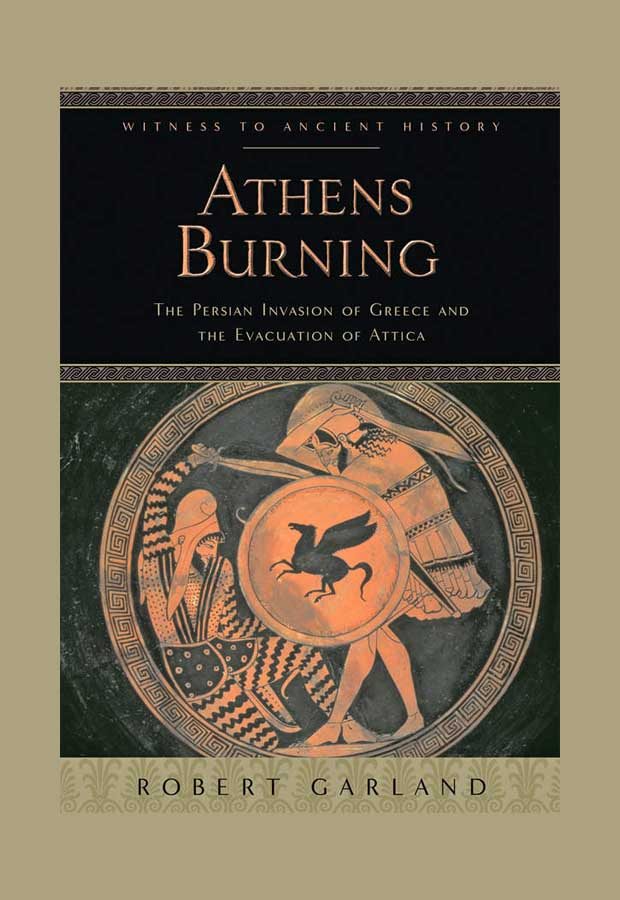 Athens Burning: The Persian Invasion of Greece and the Evacuation of Attica - Amazon - 184 pages - Johns Hopkins University Press 2016
---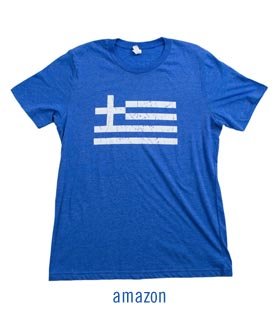 ---
August 7, 2017
Greece wants to slash OPAP VLTs to 25,000 - calvinayre.com
"The rollout of VLTs, which started operating in January 2017, is still in progress, with 53 gaming halls—as of June—hosting a total of 1,355 machines, according to OPAP.

... The company, which was fully privatized in 2013, saw its full-year earnings and net profit for 2016 fall 18.4 percent to €307.5 million and 19.2 percent to €170.2 million, respectively. The chief culprit behind the profit plunge was the Greek government, which raised OPAP's tax obligation from 30 percent to 35 percent of gross gaming revenue."
---
Officials say Kythera wildfire mostly contained - eKathimerini
"The situation has improved... There is no active flame at the moment," the head of Civil Protection Authority Yiannis Kalpakis told ANA-MPA news agency on Monday.
---
Macedonia naming dispute: Balkan nation set to resolve 25-year-old row with Greece for seats in NATO, EU - firstpost.com
"...A top official in Zaev's SDSM party, who also asked not to be named, warned that Greece "could keep the same position for two centuries. We should find a solution to deblock the process of integration with NATO and the EU".

...Suggestions to emerge in conversations include "Northern Macedonia", "New Macedonia" or even "Vardarska" after a river that runs through the country.

Upon an agreement, entering the 29-nation NATO is a much more likely prospect for Macedonia than the 28-country EU, which has frozen all enlargement until at least 2020."
---
August 5, 2017
Tourism arrivals to Greece reached 11 million during first half of 2017 - Tornosnews
"Arrivals by plane or overland by car accounted 10.97 million arrivals, up from 10.11 million during the same period of 2016. SETE΄s six-month report recorded that arrivals by air travel reached 6.53 million, up from 5.99 million during the first half of 2016, an increase of 10.5 percent."
---
How Greece Could Escape Debtors' Prison - US News World Report
"...despite the wave of optimism, Greece's staggering amount of debt looms menacingly over the country's economy and future. And the International Monetary Fund (IMF), while endorsing Athens' reform program, is urging its fellow creditors to offer Greece much greater debt relief.

... the troika has lent Greece about €265 billion in three separate bailouts, with the latest one set to expire next summer. Separately, Greece managed to restructure its private sector debt in 2012, reducing the amount it owed investors by about 53 percent.

Despite all this, Greece still owes a total of about €320 billion in debt, and its economy has suffered the equivalent of the Great Depression in the United States in the 1930s, having shrunk by a fourth."
---
Zakynthos - Zakynthos Town Greece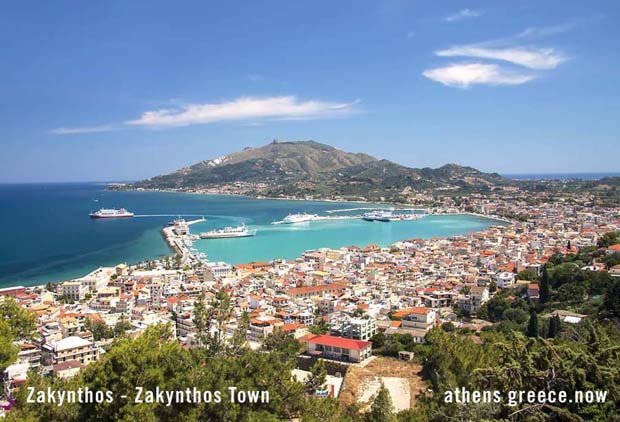 ---
August 4, 2017
Out-of-court debt settlement platform gets over 46,000 visitors on first day - eKathimerini
"According to data released by the Finance Ministry on Friday, 2,400 businesses started the process of applying to settle their debts to the state, but 310 had already been rejected by Friday on the grounds that they did not fulfill the criteria."
---
Cash versus culture: tourism projects hit trouble in Greece - NY Daily
"For frustrated developers, the suspicion is that Greece is biting the hand that feeds it. But many Greeks feel bound to protect their country's 3,500 year-old cultural heritage and some of Europe's most beautiful coastline from excess development, however pressing the need to raise cash.

"There are some people who think that antiquities are a pile of rocks and they say 'oh well, we already have enough of them'," said Thodoris Dritsas, a member of parliament for the ruling leftist Syriza party. "Syriza lawmakers don't share that view," he told Reuters."
---
The Scandalous Persecution of a Greek Whistle-Blower - Bloomberg
"...Throughout Georgiou's time in charge, the EU's own statistical agency, Eurostat, approved his work. That work was undertaken in the first place because the EU deemed it essential. The Greek government, under EU pressure, is paying only part of his heavy legal costs, and the administration of Prime Minister Alexis Tsipras continues to make him a scapegoat for Greece's economic disaster. "
---
EU savages Athens over prosecution of debt crisis statistics chief - UK Express
"He was found guilty of failing to brief the National Statistics Authority on 2009 budget deficit data before sending it to European counterpart Eurostat - even though, under EU rules, he was instructed to do exactly that.

...The legal cases against him has seen fellow senior economists and statisticians from around the world rally behind him. Some are helping to pay for his defence costs."
---
Meet the Greek Archaeologist Chasing Looted Antiquities but Shunned by Greece - Greek Reporter
"Tsirogiannis is researching antiquities smuggling networks and the market for looted cultural objects. He is a lecturer and an academic researcher at the Association for Research into Crimes against Art.

In late July he made headlines when, through his research, New York's Metropolitan Museum of Art was forced to hand over to Manhattan's district attorney a Greco-Roman vessel that was looted from Italy."
---
August 3, 2017
Brush fire south of Athens injures firemen, damages homes - Reuters
"Authorities had ordered the evacuation of dozens of homes in two communities in Lagonissi, a coastal area some 30 km (19 miles) from Athens with homes scattered across land plots.

Around 40 firefighters, 20 fire trucks and two water-dropping helicopters battled the blaze, which locals say broke out around 1100 GMT (2 p.m. local) and was fanned by strong winds."
---
Over 400 refugees granted permission to travel to Ireland from Greece
"The Department of Justice has confirmed that Ireland will take in a further 440 refugees from Greece this year.

The Government has pledged to take in a total of 4,000 refugees under the Irish Refugee Protection Programme."
---
Greece says arbitration over Eldorado mine plans to start in August - CNBC
"Eldorado is developing the Skouries and Olympias projects in northern Greece, where it also operates the Stratoni mine. Skouries has been a particular flash point with authorities, with differences persisting for years over testing methods applied to comply with environmental regulations.

"The ministry believes that resorting to arbitration with (Eldorado unit) Hellas Gold is the best solution to sort out all (outstanding) issues," the statement added."
---
Wildfires rage in Greece and Corsica as temperatures soar - independent.ie
"Wildfires are threatening homes south of Athens and a famed hikers' route in Corsica as high winds and unusually hot weather hit many areas of Europe."
---
Former Greek data chief given suspended sentence - Capital GR
"The conviction of Andreas Georgiou came as a surprise as the former chairman of country's statistical agency, Elstat, had been acquitted of the same charges by another appeals court only eight months ago.

...[He] said that he had been convicted for following "the principle of professional independence as required by EU and Greek law. In Europe we do not put statistical results up for voting [by a board]".
---
August 2, 2017
Greek ports cannot cope with traffic - eKathimerini
"The problem is more acute this summer with the increase in tourism and the ever growing competition between ferry companies vying for the biggest possible market share. The result is major delays at ports when two or three big ships arrive to dock at almost the same time. The ports' inability to simultaneously cater to more than one vessel forces ships to wait offshore for the other to dock first."
---
IMF admits disastrous love affair with the euro - Protothema
"The International Monetary Fund's top staff misled their own board, made a series of calamitous misjudgments in Greece, became euphoric cheerleaders for the euro project, ignored warning signs of impending crisis, and collectively failed to grasp an elemental concept of currency theory.

This is the lacerating verdict of the IMF's top watchdog on the fund's tangled political role in the eurozone debt crisis, the most damaging episode in the history of the Bretton Woods institutions."
---
Eurobarometer: 98% of Greeks see the state of the economy bad - Naftemporiki
"98% of Greek citizens believe that the current state of the national economy is "bad", compared to 51% of European citizens. Only 2% of Greek respondents said that the state of the national economy is "good", compared to 46% of European citizens.

69% of Greeks (compared with 27% of Europeans) assess "bad" their current state of affairs, and 49% of Greeks (compared to 22% of Europeans) assess "poor" status of their work."
---
August 1, 2017
Greece Is Still A 'Rich' Country - Forbes
"Since ancient times, democracy has often created chaos in the street of Athens, but it has served as a diffusion mechanism for political tensions. And it has accommodated the peaceful transition from one political leadership to another -- a process that has accelerated in periods of economic crises.

...Greece has made a great deal of progress in building an efficient infrastructure system, which together with a highly trained and technologically savvy labor force will help Greece rise again. All it takes is a nudge, a few pro-market measures that will release the ingenuity and creativity of its people."
---
Greece's disappearing whistled language - BBC
"For some 2,500 years, residents of this mountainous village have used an astonishing language that only they understand. But there are only six people left who can 'speak' it.

...Known as sfyria, it's one of the rarest and most endangered languages in the world – a mysterious form of long-distance communication in which entire conversations, no matter how complex, can be whistled. For the last two millennia, the only people who have been able to sound and understand sfyria's secret notes are the shepherds and farmers from this hillside hamlet, each of whom has proudly passed down the tightly guarded tradition to their children.

Today, there are only six people left on the planet who can still 'speak' this unspoken language But in the last few decades, Antia's population has dwindled from 250 to 37, and as older whistlers lose their teeth, many can no longer sound sfyria's sharp notes. Today, there are only six people left on the planet who can still 'speak' this unspoken language..."
---
Greece's Road to Bailout Exit: 140 Reforms Down, Many More to Go - Hellenic Shippingnews
"A return to the bond market last week, the pledge of 8.5 billion euros ($9.5 billion) in new loans from euro-area creditors, the possibility of more money from the International Monetary Fund and a S&P Global Ratings outlook upgrade have coalesced to bolster investor sentiment that Greece has turned a corner.

Trouble is, much depends on the country implementing reforms — dozens of the 140 measures agreed to are in various stages of application and more than 100 additional actions are needed to access the remaining 26.9 billion euros in funds before the current bailout program ends in August 2018. While the evidence of belt-tightening is everywhere in Greece, from falling incomes to rising poverty, the country has less to show in terms of structural overhauls..."
---
Parthenon - Acropolis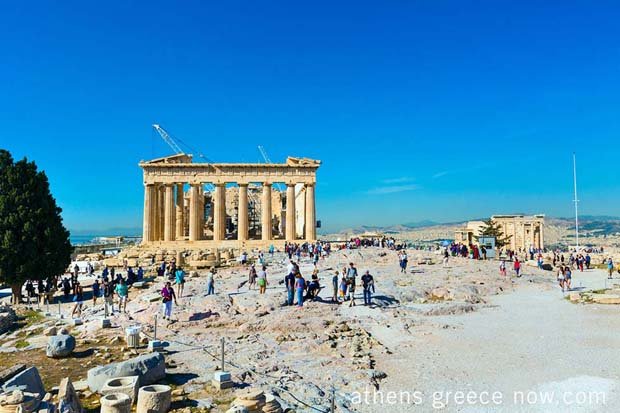 ---

---
---
---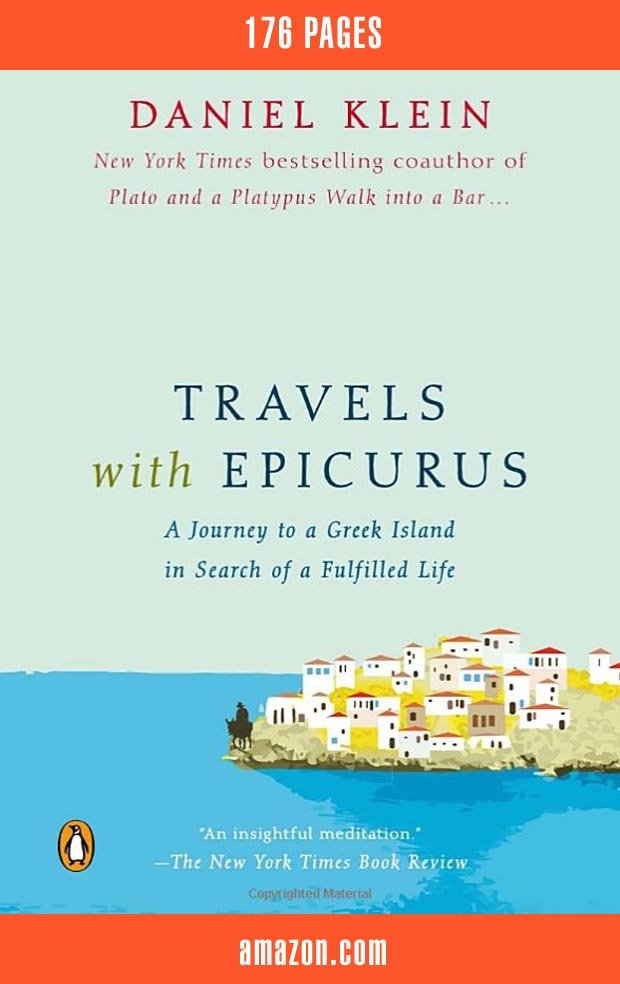 Travels with Epicurus: A Journey to a Greek Island in Search of a Fulfilled Life
---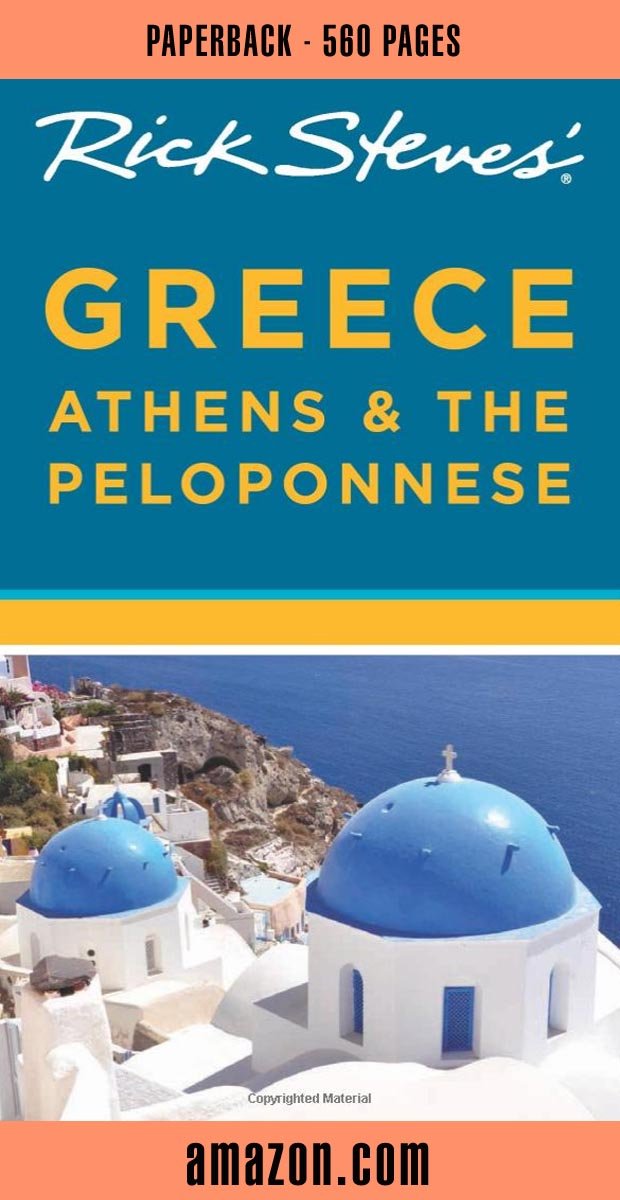 Rick Steves Greece: Athens & the Peloponnese
---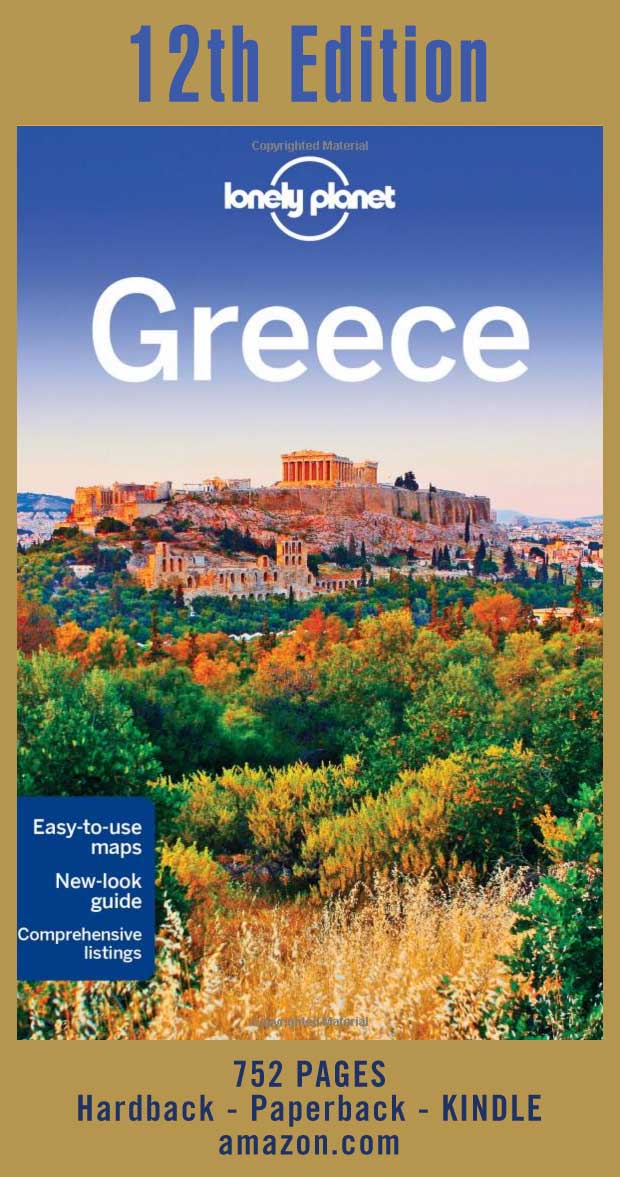 ---
---