Greece and the economic crisis
---
---
November 23, 2017
Greece's Consumer Protection Body Tables New Trade Show Rules - GTP Greece
"Under the new framework, which is set to take effect in the beginning of 2018, trade and international exhibitions will be held exclusively in show spaces or exhibition centers... "
---
Rights groups express concern for migrant conditions - Washington Post
"Nothing can justify trapping people in these terrible conditions on the islands for another winter," Eva Cosse, Greece researcher for Human Rights Watch, said in a joint press release with the other agencies.
---
November 22, 2017
Greece, Looking to Move Past Bailouts, Unveils Ambitious Budget - NY Times
Still ahead: dealing with the approx 180% debt to GDP issue, along with restructuring. Also ahead, the big question of whether years of austerity has only been a spending restraint on the government in Athens, or has it been training wheels for a better run future economy?
"The budget "will mark the country's exit from a long period of macroeconomic adjustment," Greece's Finance Ministry said in a statement accompanying the proposed budget."
More Coverage:
General government debts at 4.49 billion euros - eKathimerini
---
New investigation into the death of Kostas Tsalikidis - Naftemporiki
"...order for a new investigation into the causes of death of former Vodafone deputy Costas Tsalikidis was given by the head of the Eparchy Prosecutor's Office, Antonis Liogas.."
More Coverage:
Prosecutor reopens probe into mobile executive's 2005 death - eKathimerini
---
Greece submits last bailout budget but austerity continues - FOX
"Greece is racing to complete the latest round of negotiations with rescue creditors by the end of the year, before the current bailout ends in August and the country will have to return to market funding."
---
Greece sees primary surplus at 3.82 percent, GDP growth 2.5 percent in 2018 budget - Reuters
"The final draft of the state 2018 budget submitted to parliament on Tuesday forecast an expansion in output of 2.5 percent next year, compared to a projected 1.6 percent in 2017."
More Coverage:
Greek 2018 draft budget foresees 3.82 pct primary surplus, 2.5 pct econ. growth rate - amna.gr
---
November 21, 2017
Leaders of Cyprus, Egypt, Greece pledge closer cooperation - ABC News
With recent closer ties between Israel and Greece, and relatively closer ties between Israel and Egypt, it looks like a bifurcated treaty alliance in the Eastern Mediterranean with Greece, Cyprus, Egypt and Israel on one side, and Iranian-backed forces in Syria and Lebanon on the other, with Turkey as the variable that can switch to go either way.
"Cyprus President Nicos Anastasiades, Egypt's President Abdel-Fattah el-Sissi and Greek Prime Minister Alexis Tsipras also agreed Tuesday during talks in the Cypriot capital, Nicosia, to broaden "strategic cooperation" on energy."
---
Greece to overshoot budget surplus targets in 2017, 2018 - Reuters
"The figures mark an upward revision. A draft budget submitted on Oct. 2 had put the surplus at 2.2 percent for 2017 and 3.57 for 2018."
---
PAOK shares lead with AEK after home win - USA Today
"PAOK added fresh drama to Greece's title race by coming from behind to beat Atromitos 2-1 at home and share the league lead with AEK Athens on Monday."
---
Greece invites bids for privatizing Alimos and Chios marinas - eKathimerini
"The deadline for the initial expression of interest by investors is January 16, 2018 for the marina of Alimos and January 18, 2018 for Chios."
---
In a trilateral EU-Greece-Germany meeting the issue of checks at German airports - liberal.gr
"...Germany is one of the countries that have temporarily reinstated controls at internal borders, specifically on flights from Greece, in order to address the risk of irregular immigration."
More Coverage:
Greek travelers flying into German airports since November 12 have described increased security checks as "humiliating." - eKathimerini
---
November 20, 2017
Greece probes central bank head over alleged leak - Financial TImes
"Details of the report on Attica Bank appeared in Greek media "only after [the report] was circulated to cabinet ministers and the 300 members of parliament", he added."
---
Greece: 2 still missing in deadly floods that killed 20 - FOX
"Government spokesman Dimitris Tzanakopoulos announced emergency aid for those affected, including a tax-free benefit of 5,000 euros per damaged household and 8,000 euros per damaged business."
---
Greece to give millions in compensation to flood victims - Reuters
"The disaster has prompted recriminations and finger-pointing over a perceived inability of Greek authorities to act on prior warnings that areas with poor infrastructure and unlicensed construction were vulnerable to flooding. Critics also asked why flood prevention projects had been delayed."
---
Greece unveils flood relief measures as death toll hits 20 - Yahoo
"Most of the victims were drowned, carried away by the floodwaters and mudslides, or trapped in flooded cars or basements. Several were found at sea."
---
Athens with Pireas in distance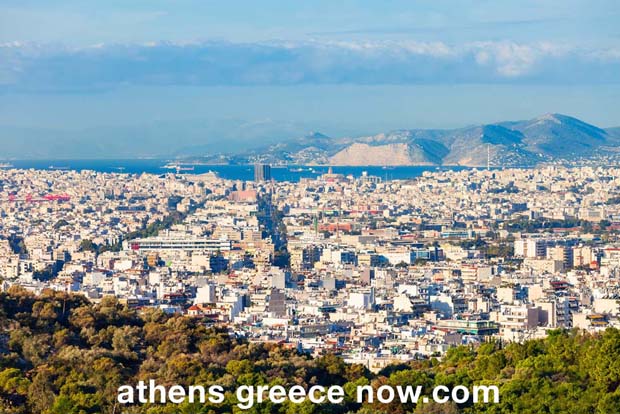 ---
November 19, 2017
Clashes break out on anniversary of 1973 student revolt in Greece - MSN
Video Report
"Tensions grew in the district of Exarcheia when Antifa protesters hurled rocks and Molotov cocktails at police who responded with tear gas. Earlier, thousands of protesters took to the streets to mark the anniversary of the bloody Polytechnic School Uprising."
---
November 18, 2017
Violence in Greece breaks out after annual US Embassy march - ABC News
The annual march is a centralized way for various groups (particularly Marxist derived) to get together and commemorate the 1973 Polytechnic bloodshed. From the ABC article:
"Resistance against fascism forever," read one banner, while protesters chanted "Americans, murderers of the people!"
There is a core tenant for some groups that the Georgios Papadopoulos (and Ioannidis) led Junta (1967-1974) was a mere puppet of the CIA.
"Hundreds of youths attacked police in Greece's two largest cities on Friday, hurling rocks, flares and gas bombs, following a large, peaceful march to mark the anniversary of the 1973 crackdown on a student uprising against Greece's former military dictatorship."
---
19 dead from deadly floods - Naftemporiki
"...Two more bodies, a 59-year-old and a 29-year-old, were identified by the Port of Elefsina at the harbor, they were taken to the Thriasio hospital for necropsy and necropsy. One of the bodies had been locked in a rough place at the bottom of the sea and needed the assistance of the men of the submarine mission team to recover."
---
George Papandreou: New delusion that Tsipras pulls out the country in 2018 from the third Memorandum - Efsyn
"Neither the Right, of course, but eventually nor SYRIZA were the carriers of changes. Changes that no Troika impose on us. Progressive changes that break down instead of incorporating us. They do not reproduce another pseudo-cause: state or market. Neither state nor market, first the citizen. A right state and a properly regulated market, serving the citizen rather than the powerful through an idiosyncratic clientele."
---
Vienna: where Greek first appeared in print - Neo Kosmos
Nice primer on Greek history vis-a-vis Vienna and the impact of relations via the Ottoman Empire, and afterward:
"After the Treaty of Passarowitz was signed in 1717, the borders stabilised and there was a push to reopen commerce and to begin the reconstruction of a vast area devastated by decades of war. Aside from fixing the boundaries between the two empires, a key provision was the right of Ottoman and Austrian subjects to engage in commerce in each other's realms. The Austrians lacked knowledge of the Ottoman Empire, and the Turks disdained commerce, so as a practical matter the opportunity fell on Ottoman minorities, Orthodox Greeks and Serbs, as well as Jews and Armenians."
---
November 17, 2017
Search continues for 6 still missing in flash floods - ABC News
"The fire department said search and rescue efforts continued to locate the six, all reported missing in the Mandra district on the western outskirts of the Greek capital, which was the area hardest hit."
---
ECHR orders Greece to pay damages over probe of death in wiretap case - Reuters
"The Court considers that the national authorities failed to carry out an adequate and effective investigation into the circumstances surrounding the death of Mr Tsalikidis," the Strasbourg-based court said in a ruling dated Nov. 16.
---
Greeks Clean up, Mourn after Floods Kill 16; 4 Still Missing - National Herald
Photos of the flood in Mandra along with video clips, too.
---
Tsipras: EU must recognize the major differences in labor markets - Naftemporiki
"The Prime Minister noted that those who are working in flexible forms of work and who are no longer unemployed have no real rights, that women and young people are particularly vulnerable, and that kind of unemployment undermines the system as a whole. He also stressed that "as far as unemployment is concerned, we should be clear."
---
November 16, 2017
Group claims November 6 armed attack on riot police - Kathimerini
They are also being blamed for random assaults on the Mexican Embassey, French Embassy, and now PASOK headquarters in Exarchia. Reports elsewhere claim they've been using Kalashnikov military weapons.
"...the group admitted to firing a shot at a riot van parked in from of the offices of PASOK on Harilaou Trikoupi Street on January 10 as a "warning" and then "attacking again" on November 6." [Kathimerini]
In July Tovima had a story on this group's activities: "The group posted a declaration on the Athens Indymedia website, explaining that it decided to attack PASOK's offices in response to the party's "historical role in the service of capital..."
---
1 of 6 missing in Greece floods found alive - Fox News
"Rescue crews were searching Thursday for those missing in the Mandra area on the western outskirts of Athens. The area was the hardest hit by Wednesday's flooding, which turned roads into raging torrents of mud and debris that carried away cars, tossing them into buildings."
---
Greece Offers Bond Swap in a Charge Toward Financial Freedom - NY Times
The announcement from the Bank of Greece is an offer to convert 20 Greek bonds valued at €30 billion into five new debt issues (details at the Bank of Greece website)
"...Prime Minister Alexis Tsipras yearns for the day he is able to regularly sell Greek bonds to foreign investors, thus cutting the country's ties to financial lifelines."
---
Get ready for Black Friday-Cyber Monday travel deals on Cuba, Greece and more - LA Times
The offers being described on the LA Times article page are mostly within very limited time frames for purchase.
---
November 15, 2017
At least 10 dead in flooding in Greece - UPI
Attika region flooding has been particularly devastating in areas around Mandra, Nea Peramos and Megara
"Severe rainstorms on Tuesday and Wednesday in Greece's Attica region damaged roads, homes and businesses. Although full damage assessments have not begun, the towns of Mandra, Megara and Nea Peramos were heavily damaged."
More Coverage:
Greece flash floods leave at least 10 dead - CBC News
Deadly floods hit Mandra, Nea Peramos and Megara - BBC
Flash Floods kill several people - Reuters
---
Greece in new market test with bond swap - France 24
There's a November 28 deadline for bondholders to decide.
"Greece on Wednesday offered to exchange some 30 billion euros ($35 billion) in bonds in a new market test for the country seeking to emerge from its latest bailout."
---
November 14, 2017
Greece Hopes Its Economy Can Get High From Medical Weed - Bloomberg
An official task force postulates some 400 jobs could be created by greenhouse cultivation for a cannibis industry that caters to anti-nausea usage for cancer and AIDs sufferers.
"Growers have expressed interest in pumping more than 1.5 billion euros ($1.74 billion) into projects to build greenhouse parks for the cultivation and manufacture of cannabis, Evangelos Apostolou, minister of rural development and food, said in an interview."
---
November 13, 2017
Croatia qualify for World Cup with Greece draw - Times of India
---
October 23, 2017
Greece Aims for Quick Austerity Review as Bailout End Nears - US News
"Bailout reviews are normally delayed for months as governments push back against demands for austerity. Prime Minister Alexis Tsipras is keen to conclude the current round of negotiations swiftly to help a smooth return to bond markets."
---
Greece's Eurobank to sell debt eligible for purchase by ECB - Financial Times
"The bank has hired a consortium of investment banks to sell a three-year covered bond as early as next week..."
---
Rights groups urge Greece to ease migrant 'containment' - Fox
"In an open letter to Prime Minister Alexis Tsipras on Monday, the 19 international and Greek organizations said thousands or refugees and migrants face "abysmal conditions" on Greek islands but are not allowed to travel on to the mainland."
---
October 22, 2017
No Reactions in Schools for Picking Flag Bearer by Draw - Greek Reporter
"The controversial decision of the Education Ministry that the parade flag bearer for each class will be decided by draw proved to be acceptable, as there were no reactions for the students selected for the October 28 parade in about 6,000 classes across Greece."
---
First crematorium in Greece set to be built in the inner city of Athens - Tornos
"Past opposition by the dominant Orthodox Church and a lack of interest by lawmakers and successive governments over the years to permit the operation of crematoria rendered Greece as one of the few western countries where the practise of cremating bodies was not available."
---
Greece's great unanswered question - Neo Kosmos
"...The first thing I'm waiting to hear is an admission of collapse, an honest acknowledgement that the country has defaulted. I know that, today, we're in a stage that this is completely redundant. Everybody knows the state that Greece is in, particularly those who feel the effect of default on their livelihood and survival: the jobless, the homeless, the underemployed, the underpaid, the pensioners, the cancer patients who can't even get treatment. And yet, it is not insignificant. As any first-year psychology student knows, admission is the first step of solving a problem."
---
October 21, 2017
Long-term jobless figure grows - eKathimerini
"Almost three in every five jobless Greeks have been out of work for a year or more, even though the overall number of people registered as unemployed at the Manpower Organization (OAED) posted a decline in September."
---
Greece to face Croatia in World Cup qualifying play-offs - Neos Kosmos
"...Greece faces a formidable opponent in Croatia who are ranked significantly higher than Greece in the FIFA World Rankings; currently sitting in 18th place, well ahead of the Greeks who are ranked 47th.

On paper, Croatia will be favoured to progress to Russia ahead of Greece, as their team is blessed with an array of world class talent who have big game experience..."
---
Bank of Greece governor urges banks to accelerate NPL clean up - Capital.gr
"According to Reuters, NBG, Alpha and Piraeus are working on NPL transactions (due by next March) totalling some EUR5.5bn in face-value terms, mostly for unsecured consumer exposures: Eurobank sold a EUR1.5bn consumer NPL portfolio (EUR0.6bn net of write-offs) in the past month."
---
ERT asking for music submissions with "Greek Sound" - Wiwi Blogs
"Greece may have won the Eurovision Song Contest 2005, but in recent years it has struggled to match its earlier table-topping results.

But now the land of Eurovision legends — Helena Paparizou, Kalomira and Sakis Rouvas to name a few — is on the hunt for its 2018 entry, with ERT launching a submission process for the country's top record labels."
---
October 20, 2017
Gov't defends controversial F-16 deal, says upgrade work to be carried out in Athens - Keep Talking Greece
"The upgrade was not expected to cost more than 1.1 billion euros ($1.3 billion), a sum which would be paid in annual installments of about 110 million euros over a decade."
---
Greece's Eurobank to sell debt eligible for purchase by ECB - Washington Post
"The man, who hasn't been named, traveled to a Greek island from Turkey last year and lives in the northern city of Thessaloniki with his wife and two children."
---
Macedonian nationals arrested in Greece over wiretap scandal: police source - Reuters
"...The two Macedonians, aged 51 and 35, are accused of destroying machines used in wiretapping, a police official said on condition of anonymity. "
---
May: We want all Greeks living in Britain to stay - Naftemporiki
"Britain's prime minister makes special mention of Greece's "strong trade relationship" with Greece... "
---
Greece's Eurobank to sell debt eligible for purchase by ECB - Financial Times
"While Greek government bonds are not eligible for the ECB's sovereign debt purchases, the country's covered bonds could benefit from central bank demand, according to bankers."
---
October 19, 2017
Greece's Eurobank to sell debt eligible for purchase by ECB - Financial Times
"The deal follows robust demand for the sale of €750m of covered bonds by National Bank of Greece (NBG) last week — the first bank debt sold by a Greek lender since 2014. Covered bonds are secured against a pool of loans, typically mortgages, to provide investors with additional security in the case of default."
---
Greece defends F-16 warplane upgrade amid cost criticism - Francs 24
"Prime Minister Alexis Tsipras, who rubber-stamped the upgrade during an official visit to Washington this week, has said the planes risked being rendered inoperable without the upgrade.

Speaking at the Brookings Institute, Tsipras -- who took a surprise flight aboard an F-16 just before the Washington visit -- said Greece is obliged to keep up defence spending because of its geographic proximity to volatile areas."
More Coverage:
Ministry responds to controversy over F-16 upgrade - eKathimerini
---
Greece's Tax Fraud Problem - MSN
MSN Camera crew follows tax inspectors as they move through the Plaka and then the islands, looking for fraud. Story includes small business owners complaining about the VAT and the general tax burden.
"Since the financial crisis, Greece has been beefing up its tax collection system: widespread evasion and fraud means its tax yield is way too low."
---
Totem Poles at the White House - eKathimerini
"...At the White House yesterday, Prime Minister Alexis Tsipras tore down yet another totem pole, that representing anti-American sentiment.

If someone were to tell the average Greek 20 years ago that a left-wing prime minister would speak as Tsipras did about Greek-American ties, he or she would have said they were mad.

Yet Tsipras said that Greek-American ties are at the best they have been since World War II – an important statement given how much history there is in this relationship."
---
October 18, 2017
Greece, lenders to start talks again, as countdown starts - Reuters
"Athens hopes to wrap up the review by January to start discussions with its lenders right after on the terms of exiting its current, 86-billion euro bailout in August 2018, and on further debt relief - a long-standing Greek demand."
---
Trump heralds $2.4bn sale of F16 fighter jets to debt-laden Greece - Guardian UK
Trump, with prime minister Alexis Tsipras, said Greece had "gone through a lot" during its extended period of economic hardships but vowed that the US would remain steadfast as the country executes its debt-relief plan.

"The American people stand with the Greek people as they recover from the economic crisis that recently afflicted their nation," Trump said alongside Tsipras in the rose garden. He added: "A strong and flourishing Greece provides immense opportunity for American trade, investment and job creation."
---
Fresh case of a privatization project stuck in logjam - eKathimerini
"...The 253,000 square meter plot was sold to the Mentekidis family in 2015, but no construction license has been issued."
---
Intense investment interest in Greece - Toxwni
"...The meeting was attended by Marathon AssetManagement executives, with a portfolio value of over $ 15 billion, ABS managing $ 5 billion of Silver Point Capital, worth close to 10 billion, and Greylock Capital , worth more than 1 billion. "
---
October 17, 2017
Greece's Tsipras says Turkey must remain in NATO - Reuters
VIDEO REPORT

"Greek Prime Minister Alexis Tsipras says he continues to support Turkish course toward Europe and NATO."
---
President Trump Reiterates Support for 'Responsible Debt Relief' for Greece - WSJ
"President Donald Trump on Tuesday reiterated U.S. support for "responsible debt relief" for Greece after meeting the Greek Prime Minister Alexis Tsipras at the White House."
---
Trump Praises Greece as 'Most Stable Country in the Region' - VOA
"Greece today is the most significant pillar in security and cooperation in one of the most important but at the same time unstable, sensitive areas of the planet," Tsipras told reporters Tuesday.

Tsipras added that Greece not only fulfills its financial obligations to NATO but "maintains the dialogue with Turkey despite the difficulties that we face."
More Coverage:
Trump hails Greece's economic revival at White House meeting - ABC News
Greece prime minister says U.S. relationship at its best since WWII - CBS News
Trump hails Greece's economic revival at White House meeting with once-critical Athens leader - Japan Times
---
Can the E.U.'s Weakest Link Hold? - NY Times
"Greece's economic problems triggered the European Union's first major crisis. Chancellor Angela Merkel of Germany was in favor of Greece remaining in the eurozone but made a point of not making things easy for Athens. This was ostensibly to avoid moral hazard, but perhaps more to appease critics at home. Now, with her conservative party having won the elections by a reduced majority, she is likely to be under pressure to make things even harder for Greece."
---
Greece, in recession again last year, eyes recovery in 2017-18 - Reuters
"The country's leading economic think tank, meanwhile, said there would be growth this year - but not as much as the government expects.

The economy contracted by 0.2 percent in 2016, statistics service ELSTAT said on Tuesday, releasing its revised estimate of full-year gross domestic product."
More Coverage:
Greek economy in recession in 2016, statistics agency says - eKathimerini
---
Work on Israel-Cyprus-Greece electricity link to start 2018 - Washington Post
"...The 1,520-kilometer (945-mile) undersea electric cable with a 2,000-megawatt capacity will be able to both receive and transmit electricity."
---
October 16, 2017
Investment Is the Missing Ingredient as Greece Rebuilds Economy - Bloomberg
"Prime Minister Alexis Tsipras has insisted that growing confidence in the country's stability will open the floodgates on investments, but the evidence of that happening is so far scant. Gross fixed capital formation was stagnant in 2016, and grew just 2.7 percent in the first half of this year."
---
All Bets Are Off for Greece Needing More Financial Support - Hellenic Shipping News
"There's no political appetite for another program, either in Athens or among creditors, but the Eurogroup will want to keep Greece on a leash to ensure its loans are repaid and that the government keeps reforming, so the question is what's the best arrangement to achieve that," said Mujtaba Rahman, managing director of Eurasia Group, a consulting firm in London.
---
Greece eyes November timeframe for bond swap, sounds out investors - Reuters.com
"It is seeking to create 4 new, benchmark size bonds, replacing 20 separate issues with a face value of around 32 billion euros (28.54 billion pounds). The move would smooth out maturities and add depth to a currently shallow market."
---
Church bells ring in protest of Greece's gender rights law - Premier UK
"The Orthodox Church said in a statement that the change in law was "a satanic deed" and would lead to "the destruction of social cohesion and the spiritual necrosis of man".

Greeks over the age of 15 will now be able to change the gender listed on their identity cards and other official documents following a simplified procedure in court."
---
ECB could provide support for Greece by buying NBG bonds - bankers - Times of India
"Several other Greek lenders are expected to issue covered bonds in the next few weeks which should also be eligible for the euro zone central bank's bond-buying scheme. The ECB has so far refused to buy government debt issued by Greece which has been bailed-out three times by its euro zone peers.

The ECB is not believed to have bought any of the NBG bonds in the initial public sale, but banking sources close to the deal say it may do so after evaluating the credit."
October 14, 2017
Greece: Joint air force drills with Cyprus, Egypt, Israel - Fox
"The island's Greek Cypriot President Nicos Anastasiades said there will be no let-up in efforts to reunify Cyprus, despite July's collapse of peace talks with breakaway Turkish Cypriots."
---
IMF Not Asking Greece for More Fiscal Measures - Greek Reporter
"Greece will successfully meet the primary surplus target of 2.2% of the GDP, which is the target the IMF had set for 2018, [IMF's European Department Poul Thomsen] said."
---
Greece's public sector employees earn 38% more than private sector workers - Keep Talking Greece
"The wage difference between private and public sector workers is at 300 euros net salary per month.

According to SEV research, private sector employees receive an average monthly salary of 77o euros net, while public employees receive 1,075 euros."
---
Germany renews border checks with Greece and Austria - cobess.com
"Germany extended temporary passport controls on its border with Austria and for flights departing from Greece."
---
Two former GNTO officials get suspended sentences - Kathimerini
"The two women were arrested in August 2012 after they were found to have demanded 2,500 euros from a businessman in Pieria... "
---
Tsipras: Common points of our foreign policy with the US - liberal.gr
"It is clear that the US, given its interest in stability in the region, as well as our extremely important defense cooperation - including Souda - have a special interest in working in this direction. We are at a time when the foreign policy goals of Greece are in common with the US strategy in the region..."
---
Acropolis Dusk and Night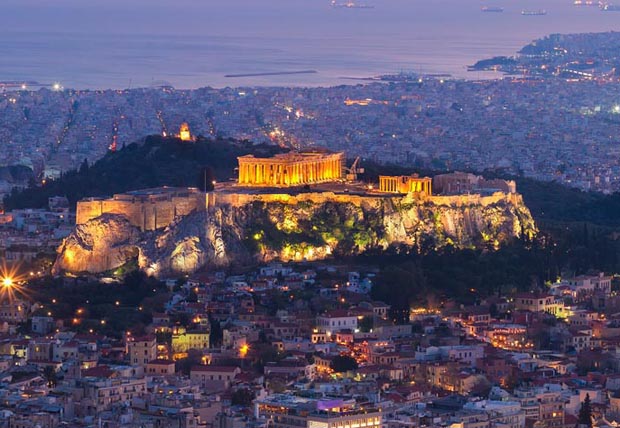 ---
October 13, 2017
Greece eyes November timeframe for bond swap, sounds out investors - Reuters
"...It is seeking to create 4 new, benchmark size bonds, replacing 20 separate issues with a face value of around 32 billion euros (28.54 billion pounds). The move would smooth out maturities and add depth to a currently shallow market."
---
All Bets Are Off for Greece Needing More Financial Support - Bloomberg
"Officials directly involved in the country's bailout say they don't have the stomach for another strings-attached aid program when the current one expires in August 2018. Worn out after seven years of endless cliffhanger negotiations, both Athens and its European creditors are keen to turn the page. That said, Greece needs to show it can go it alone while Euro-area creditors have to be sure they can recover their money."
---
October 11, 2017
U.S., Russia in extradition tug-of-war over bitcoin fraud suspect in Greece - Reuters
"...Judges ruled last week that he should be extradited to the United States, a decision Russia criticized as unjust and illegal and which Vinnik is challenging at Greece's supreme court."
---
Self-employed may get more time for 2016 contributions -fff
"Although the Single Social Security Fund (EFKA) issued a circular clearly stating that the deadline for last year's contributions is November 30, Deputy Minister Tasos Petropoulos said it was possible an extension up to early 2018 would be granted."
---
Another win for Belgium, Greece heads for World Cup playoffs - Yahoo
''We have rebounded from a bad spell and we are back in form,'' said Greece captain Vassilis Torosidis, who opened the scoring in the 32nd minute, meeting a cross from Carlos Zeca with an athletic header.
---
Greek, Turkish jets engage in mock dogfights - eKathimerini
"In total, 10 Turkish F-16 jets – four of them armed – and two CN-235 transport aircraft entered Greek national airspace 30 times."
---
'I feel like I'm going crazy:' Migrants in Greece are attempting suicide and suffering from other mental health issues at alarming rates - Business Insider
"More than 13,000 migrants and refugees, mostly Syrians and Iraqis fleeing years of war, are living in five camps on Greek islands close to Turkey, government figures show.

Four of those camps are holding two to three times as many people as they were designed for."
---
Greece passes new legal gender change law - MSN
"Citizens over the age of 15 will now be able to change their gender with a court ruling and without requiring a medical operation."
---
Greece's Battered Banks Start the Return to Bond Markets - wsj.com
"Greece's National Bank launched a bond Tuesday, the first time a Greek lender has tapped international credit markets in three years, when the country came close to exiting the eurozone."
---
October 10, 2017
Greece: Joint air force drills with Cyprus, Egypt, Israel - Fox
"Greece's defense minister says plans are being drawn up for joint air force drills with Cyprus, Israel, Egypt and other European countries as part of efforts to bolster stability in the eastern Mediterranean."
---
Over 5% of TAP pipes in Greece are in the ground - tornosnews
"[TAP Country Manager Katerina Papalexandri] announced the project is well within schedule and on track in all three Northern Greek Prefectures..."
---
---
October 9, 2017
Greece debates bill on legal gender change, divisions laid bare - Reuters
"Greece currently requires persons who wish to have their desired gender legally recognized to be diagnosed with "gender identity disorder" and have their reproductive organs removed. This practice has been widely condemned as a violation of human rights though is common in many European countries."
---
Greek PM prepares for US trip on October 17 - eKathimerini
"Prime Minister Alexis Tsipras is preparing to address a host of crucial issues in his meeting with US President Donald Trump at the White House on October 17, Kathimerini understands, most pressing among which is the stance that the International Monetary Fund will assume on Greece's third bailout as well as bilateral cooperation in the area of defense. "
---
President Pavlopoulos stresses Greece΄s role in Eurasia and China - Capital GR
"Greece supports regional integration schemes in the wider Eurasian region, which can contribute to the peace, growth and prosperity of the peoples," he stated, adding that "it encourages and strengthens all efforts that promote a strategic link between the countries of Europe and Asia in key areas for the economy, such as energy, trade, transport, digital online collaboration, new technologies and tourism."
---

---
---
---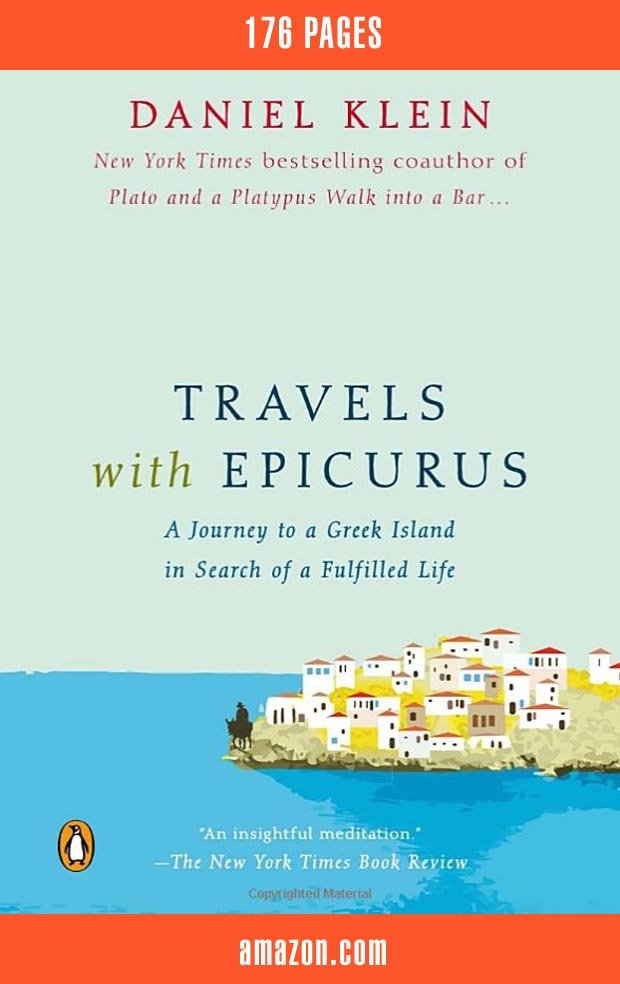 Travels with Epicurus: A Journey to a Greek Island in Search of a Fulfilled Life
---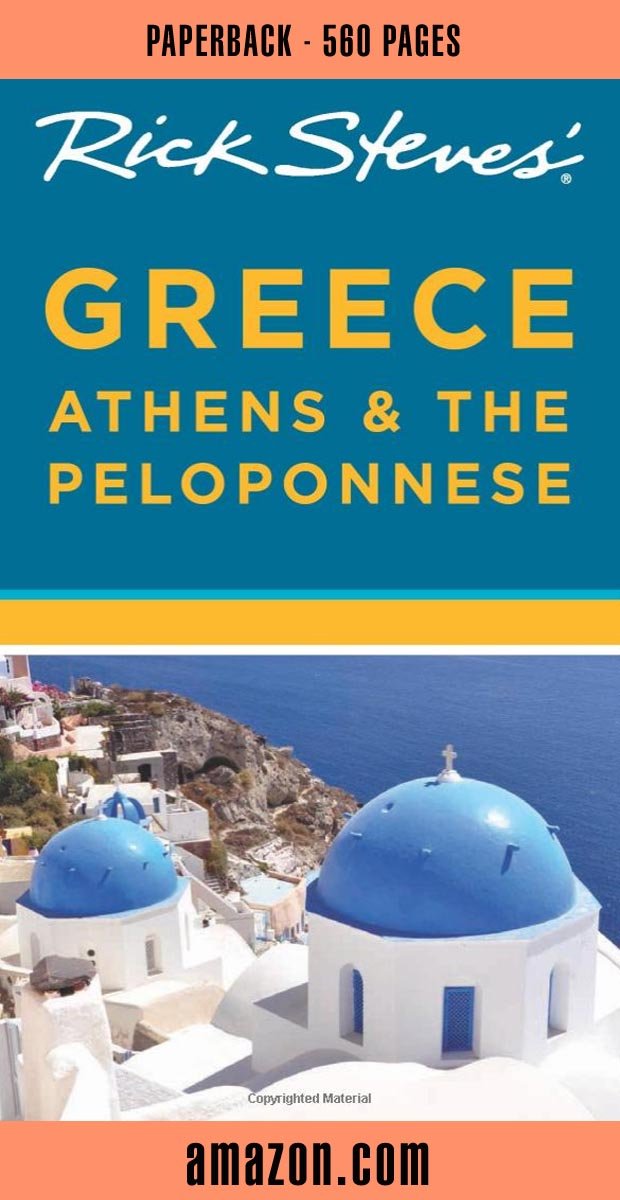 Rick Steves Greece: Athens & the Peloponnese
---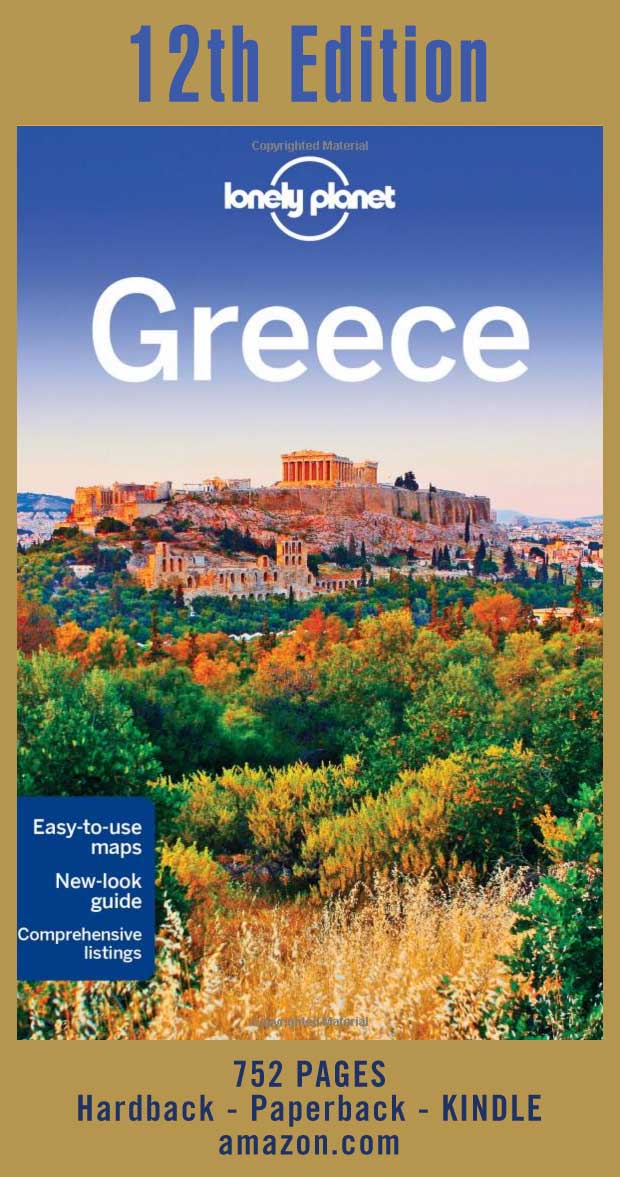 ---
---