Current amount of IMF/EU loans to Greece
: €240 billion (US $397bn).
---
Greek Account Deficit 2012
2.9% of GDP
Greek Account Deficit 2011 9.9% of GDP
Greek Account Deficit 2008 14.7% of GDP
---
GDP estimate
(4th quarter 2012):-6.0%
GDP estimate (3rd quarter):-7.2%
GDP estimate (2nd quarter):-6.3%
---
Greek foreign exchange reserve
Dec 2012: €5.5 Bn
---
Unemployment
Oct 2012: 26.8%
---
Import Price Index
- Greece is heavily dependent upon import items. Increase of 2.4% calculated between June 2012 and June 2011.
---
Demographics:
ELSTAT
put the population of Greece ("registered population") at 9,903,628 for 2011.
Population of Athens:
Municipality: 655,780
Metropolitan: 3,737,550
Urban: 3,074,160
2012 estimates non-Greek immigrants at over 800,000 (legal) and 350,000+ (illegal) in Greece.
TOP PAGES:
RSS FEED
---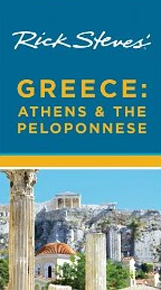 Rick Steves' Greece: Athens & the Peloponnese amazon.com
---
Credit Ratings around the world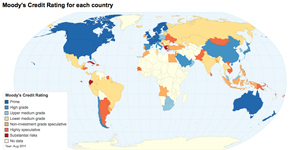 Nice interactive world map that shows the credit ratings for sovereign nations around the planet. That's right: Greece has a burning red "substantial risk" rating at present.
With national ratings and global banks all experiencing a phenomenon of credit rating 'adjustments', I don't know for how long this chart will be accurate.
Entire chart at chartbin.com
---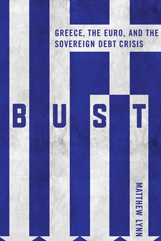 Bust: Greece, the Euro and the Sovereign Debt Crisis - By Matthew Lynn amazon.com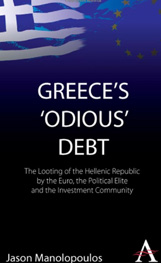 Greece's 'Odious' Debt: The Looting of the Hellenic Republic by the Euro, the Political Elite and the Investment Community - By Jason Manolopoulos amazon.com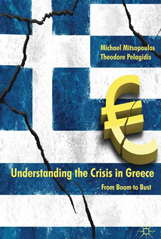 Understanding the Crisis in Greece: From Boom to Bust - By Theodore Pelagidis amazon.com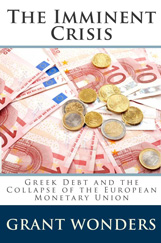 The Imminent Crisis: Greek Debt and the Collapse of the European Monetary Union amazon.com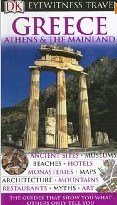 Eyewitness Greece - Athens and the Mainland - 352 Pages
---
---
Greece and the economic crisis
May 17, 2013
Will China Buy Up Greece's Best Assets? - CNBC
"We're on a very good road and the Chinese are interested in finding a gateway entrance into the European Union," Michalos told CNBC's Europe "Squawk Box." Speaking from Beijing, he said the Chinese interest in Greek assets had been encouraged by Greece's privatization program and selloff of its public assets.

"From the discussions we've already had here, the Chinese are interested in participating in these privatizations with local partners - Greek partners and sound Greek businesses. They don't want to enter the market on their own and there are good partnerships that are being developed," he said.

China already has business interests in Greece and has been praised for turning around the fortunes of the Greek port of Piraeus , managed through its state-owned shipping giant Cosco. Michalos said that China appeared to be interested in expanding its presence in Greece's ports."
Teachers Abandon Strike Plan - NY Times
"Greek high school teachers on Thursday called off a planned strike after the government essentially banned it by enacting an emergency law that threatened strikers with arrest or dismissal.

The teachers were unable to attract widespread political and public support for the planned Friday walkout, and after the government's move a vote by the teachers failed to secure a majority. Only 23 percent voted in favor of joining the strike. The two main labor unions also refused to back the proposed strike, instead staging a four-hour walkout on Thursday that disrupted public services and flights."
What Happened To Greece's Solar Surge? - Forbes
"Just a few months after reporting exceptionally strong growth in the solar sector, Athens announced that they would implement retroactive cuts to state subsidies. Like a number of European states, Greece had implemented a number of funding mechanisms over the last decade aimed at spurring solar growth."
---
May 16, 2013
Funds are piling into Greece—and believe it or not, that's not a bad move - Quartz
"In a rare victory for today's advanced economies, this week Fitch Ratings upgraded Greece's long-term sovereign debt rating from CCC to B- (still a couple of ranks below investment grade). "The Greek economy is rebalancing: clear progress has been made towards eliminating twin fiscal and current account deficits and 'internal devaluation' has at last begun to take hold," the agency said in a press release."
Greek bond yields fall after Fitch upgrade - Financial Times
"Fitch Ratings lifted its assessment of Greece's creditworthiness by one notch to B- late on Tuesday and highlighted the country's "clear progress" towards fixing its budget and trade deficits.

Standard & Poor's already rates Greece similarly but the upgrade fuelled a rally in Greek financial markets, sending the benchmark 10-year bond yield down to just above 8 per cent and the Athens stock market to its highest close since August 2011.

"It's been a tremendous trade," said Arvind Rajan, a senior fund manager at Prudential, a big US insurer that holds some Greek bonds. "Greece isn't out of the woods yet but there has been a lot of progress."
---
Unemployment stat - 2006 through Q4 2012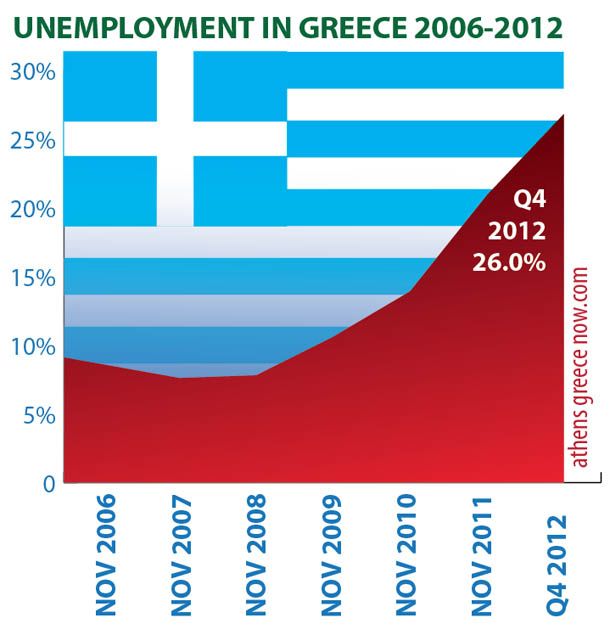 ---
May 15, 2013
Funds bet Greece will survive and thrive - Financial Times
"...Perhaps 'thriving' is somewhat optimistic, but there are signs of a turnround in Greece's austerity-hit economy. Deep spending cuts should produce a primary budget surplus this year, deposits are returning to the banking sector, business confidence is recovering, and after five years of recession the economy is forecast to start growing next year."
Fitch upgrades Greece Credit - BBC
"Ratings agency Fitch upgraded Greece's credit rating, citing progress in cutting its budget deficit and the risk of a eurozone exit receding.

Fitch up-rated Greece by one notch from CCC to B-, which is still junk status.

But Greece, seen by many last year as likely to leave the eurozone, recently won praise from the International Monetary Fund for progress in putting its finances in order.

Fitch also forecast a milder recession in Greece this year."
Greece plans to spin off 30 percent of power utility PPC - eKathimerini
"Greece has added some detail to a long-overdue plan for energy market liberalisation, saying it would sell about a third of the production capacity of power utility PPC to a private competitor in about two years.

Athens has been planning for years to transfer part of the 51 percent state-held company to rivals, aiming to spur competition in its ailing electricity industry.

But the PPC privatisation acquired a new urgency this week after the country's international lenders said they wanted to see a concrete plan for the measure as a condition for releasing further rescue loans under Greece's 240 billion euro EU/IMF bailout."
---
May 13, 2013
Eurogroup approves next tranche of €4.2Bn - Eurogroup
From the official Eurozone website announcement:

"The Eurogroup concludes that the necessary elements are in place for Member States to finalise the relevant national procedures required for the approval of the next EFSF instalment, which amounts to EUR 7.5 bn. The disbursement will take place in two sub-tranches. A first sub-tranche of EUR 4.2 bn will be approved by the EWG and the EFSF Board of Directors in the following days, following the completion of the national procedures and the full implementation of the prior actions. The disbursement of the second sub-tranche will be made in June 2013, linked to the implementation of the MoU milestones as agreed between Greece and the Troika."
Government blocks Secondary School teacher strike - eKathimerini
"Civil servants are to walk off the job on Tuesday in a bid to express solidarity with secondary school teachers after the government issued a civil mobilization order to force teachers to work on Friday when they had planned an anti-austerity strike.

Civil servants are to hold a rally on Tuesday, starting at 10 a.m. outside the main entrance to Athens University, following a small demonstration in the city center on Monday by teachers. ADEDY has also joined forces with the main private labor union, GSEE, in planning a work stoppage for Thursday, from noon until the end of the workers' shifts.

The government on Monday issued civil mobilization papers to some 88,000 teachers who face arrest and possible dismissal if they fail to turn up for work from Wednesday, when the order comes into effect."
Government emergency powers against striking teachers - ABC News
"The Greek government said Monday it will use emergency powers to prevent protesting teachers from disrupting university entrance exams this month. Civil servants' unions retaliated by calling a 24-hour strike for Tuesday.

It is the third time this year that the conservative-led coalition government has used the emergency civil mobilization order — a measure normally reserved for natural disasters and other times of national crisis — to end a labor dispute in the crisis-hit country.

More than 2,000 teachers — some dressed in army fatigues to mock the order — and left-wing unionists held two separate, peaceful protests in central Athens late Monday.

Tuesday's nationwide strike is expected to close schools and disrupt public services. Civil servants' union officials told the AP on Monday that the union was also planning a work stoppage Thursday and a series of public protests."
---
May 11, 2013
The Greek privatization problem - eKathimerini
"The criticism of Greece's efforts has been largely valid but this doesn't mitigate the fact that it has been trying to sell in a buyer's market. The overall European and global economic climate cannot be ignored. Greece has few truly desirable public assets and finding the right price and the appropriate bidder is a challenge that has proved mostly beyond its capabilities. Although, the government will laud the OPAP deal and hold it up as a sign that foreign investors are beginning to believe in Greece, it should not be forgotten there were only two final bids for Greece's most profitable company and that one of these was deemed invalid. The sale of OPAP was more a case of stumbling over the finishing line than smashing through the tape.

...One of the other aims of the privatization program was to bring in foreign acumen to shake up the existing way of doing things and to introduce a new code of ethics to smash the often less-than-virtuous cycle between the state and the private sector. Emma Delta consists of an array of established Greek businessmen and Russian, Czech and Slovak investment funds. It is hard to imagine that their involvement heralds a brave new era for business practices in Greece. Maybe those behind Emma Delta will overturn this impression."
---
Getting closer: Summer in Greece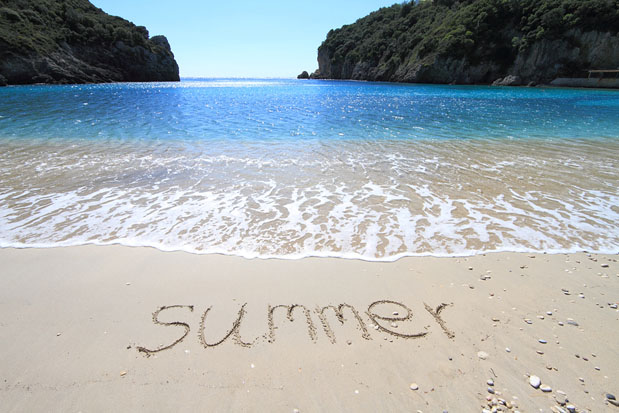 ---
May 10, 2013
3 Years after the bailouts - CNN Money
Article at CNN with simple charts showing the dramatic changes in GDP, unemployment and debt ratio for Greece since the 'bailouts' and austerity began.
Greece wants to return to bond market after massive rally
"Greece, long-time pariah of the global bond markets, finally has some positive news to share. Greek government bond yields are at their lowest levels since the nation defaulted on its debt last year as part of its restructuring package. Around this time in 2012, the yield on 10-year bonds was getting ready to hit 30%, but it has steadily fallen to a low of 9.523% Thursday, according to TradeWeb data.

With that feather in its cap, Greek Finance Minister Yannis Stournarasis said Thursday he is hoping Greece can return to the bond markets in 2014, following in the footsteps of its recession-ravaged brethren, Ireland and Portgual, Reuters reported. Greece has been locked out of the bond markets since 2010."
---
May 9, 2013
Too early for good news in Greece - New Statesman
"Greece has turned a corner" is the general message Yannis Stournaras, the Greek Finance Minister, has been trying to spread in the past few months.

....the unavoidable question arises: is Greece really doing better or is Stournaras simply spinning a positive vibe to soothe the markets and maybe help Merkel and co. look good ahead of the German elections in September? The first issue here would be a whopping €8.2bn the country owes to private companies and contractors. Greece has only managed to make its overall finances look good by stopping payments towards the domestic market. Part of the bailout funds will have to be used in order for this debt to be paid off, but a sense of "too little, too late" is in the air as this delay has strangled many businesses in the past 3 years. A "possible return to the markets" is more like a "necessary exit" as bailout funds run dry next April and additional aid looks unlikely to arrive."
Sailing in Greece: Dodecanese islands
"The Dodecanese consist of 12 islands, the most easterly in the Aegean, scattered along the Turkish coast. Unfortunately, we only had a week to explore them. For sailors like ourselves who only hoist sails once a year, a fortnight is preferable: the first week can be tense, remembering knots and adjusting to the lavatory and shower arrangements, while the second week is always more relaxed.

We started at Mandraki marina, where once the mighty Colossus of Rhodes, one of the Seven Wonders of the Ancient World, straddled the entrance to the harbour. It is still a spectacular setting, with a Venetian fortress at the entrance, three windmills on the breakwater, and the city's medieval castle, the Palace of the Grand Master of Knights, as a backdrop."
---
May 9, 2013
Deregulation of closed professions proceeding - NY Times
"Greece has opened up 247 of its 343 "closed professions" — occupations ranging from notary to taxi driver — where access had been subject to a maze of restrictions, government officials said Thursday.

The officials said the deregulated job market offered greater opportunities to the country's job seekers as new figures showed the unemployment rate edging even higher.

"Of the 343 professions, 72 percent have been fully liberalized," Finance Minister Yannis Stournaras said during a joint news conference with Costis Hatzidakis, the development minister. Other fields, including law, engineering and architecture, were "being gradually opened up," he added.

The progress in breaking open restricted-access occupations, something Greece's foreign creditors have been demanding for the past three years, "is of extreme significance for those who don't have work and who will now have better access to the job market," Mr. Hatzidakis said."
---
May 7, 2013
IMF: Greece not doing enough against wealthy tax cheats - UK Guardian
"The International Monetary Fund, one of the contributors to the Greek bailout, also said – at the conclusion of its mission to the debt-laden, recession-hit country – that a "taboo against dismissals" in the overstaffed public sector had led to a surge in unemployment in the private sector.

Greece has pledged to cut about 20% of the public sector – or 150,000 jobs – between 2010 and 2015 to help reduce spending, but progress has been slow, while unemployment has topped 27%. A bill has been passed recently to allow 15,000 public-sector posts to be axed.

However, the IMF said Greece had made progress in a socially painful recession. It had made "exceptional" improvements on its fiscal position, its competitiveness and preserving stability in the financial sector."
Greece to weigh anti-Semitism, Holocaust denial bill - Ha-Aretz
"A new legislative initiative in Greece promises a radical crackdown on anti-Semitism and other forms of racism in the country, David Saltiel, the head of the country's Jewish community revealed on Tuesday. The legislation will be submitted to parliament in the coming days, following the Easter holiday break.

The legislation was drawn up by Costas Karagouni, the Greek deputy justice minister, following consultations held with Saltiel, who serves as president of the Central Board of the Jewish Communities of Greece. Saltiel told Haaretz that he was able to convince Karagouni that the recent surge of anti-Semitism in the country threatened more than the future of the country's Jewish community, most of which was wiped out during the Holocaust.

"I explained to him that when we talk about anti-Semitism, it's not only about the Jews, but also about democracy," he said. "He understands that the situation today requires a change in legislation."
---
May 6, 2013
Tax collection still a problem for Greece: IMF - NZ Stuff
"But tax evasion is endemic in Greece, making it more difficult for the government to shore up its finances and denting support for the pro-bailout ruling coalition.

Middle-class wage earners and pensioners, the hardest-hit group in Greece's six-year recession, account for 70 per cent of total personal income declared.

The fund called on the Greek government to strengthen the independence of the tax administration to make it easier to reform the system. It also said Greece must lay off public workers to be able to hire new qualified staff, and not just rely on voluntary departures.

"The taboo against mandatory dismissals must be overcome," the IMF said.

Under Greece's current bailout plan agreed in November, Athens has to cut 150,000 public sector jobs overall from 2010 to 2015, about a fifth of the total, through hiring curbs, retirement and dismissals."
---
May 4, 2013
Stournaras: The Worst is Over for Greek Economy - UK Telegraph
"Mr Stournaras's upbeat tone comes ahead of the IMF's health check on the Greek economy, which is expected to indicate that the country is turning the corner. The IMF is expected to deliver its annual Article IV Consultation on the country tomorrow, which will give its verdict on whether the economic outlook is improving after six years of deep recession.

The IMF has praised improvements to Greece's much- maligned tax collection procedures, according to reports in the Greek media this weekend.

...Athens is on course to deliver a primary budget surplus – which does not take into account debt payments – a year ahead of schedule. He added that the country has already pushed through two- thirds of the reform measures needed to address the huge holes in the nation's budget. Interest costs on Greece's massive debt pile have been sharply reduced by the debt restructuring the government has made."
---
May 3, 2013
Brussels sees smaller GDP contraction in Greece - eKathimerini
"The spring estimates on European economies issued on Friday by the European Commission point to an improved condition in Greek economy that will shrink by 4.2 percent this year against an original forecast for a 4.4 percent contraction, against a deteriorating background in the eurozone.

Greece will return to growth next year with its economy expanding by an estimated 0.6 percent."
Traditions of Holy Friday with the Greek orthodox - Greek Reporter
"The corresponding Greek word for Easter is Lambri (meaning brilliant), because the day of the resurrection of Christ is a glorious day and foretells that death is not the end for humans.

However, before redemption comes with Christ's Resurrection, the faithful must go through the Holy Week, during which the passions of Jesus are commemorated from the day he entered Jerusalem until the crucifixion and subsequent Resurrection.

Some of the highlights of the Holy Week are associated with the Epitaph and its litany on Holy Friday, which is the saddest day for Christians, a day of absolute fasting and no work. On Holy Thursday housewives traditionally prepare tsourekia (Christ bread) and dye eggs red, an ancient symbol of new life and the color symbolizing the blood of Christ.

In older times people used to place the first red egg οn the iconostasis of the house to cast out evil spirits. In some villages, they would mark the head and the back of young lambs with the red dye used for coloring the eggs."
---
May 2, 2013
Is anti-austerity fever cooling off - Am Public Media/BBC
Audio recording with Mark Lowen from BBC discussing the smaller crowds for the Mayday Workers Holiday in Athens, Greece, and how previous years featured tens of thousands of protestors, with attendant petrol bombs and violence, and this year only 2,000 or 3,000 marchers with a much different tone.
33% of OPAP privatized to Emma Delta - BBC
"Investment fund Emma Delta has successfully bought 33% of Greek gambling monopoly Opap in Greece's first big privatisation.

The much-delayed deal went through after the Greek-Czech fund, the sole bidder for the stake, raised its offer.

Emma Delta's initial bid of 622m euros ($812m; £526m) had been rejected by the authorities for being too low.

Greek Finance Minister Yannis Stournaras said the privatisation had been "successfully completed"
Alpha Bank shares soar on recap deal - Miami Herald
"The market euphoria follows confirmation from Alpha that it will raise up to 550 million euros ($723 million) from private investors, including 457 million euros from a rights issue and the remainder from a private placing.

The rights issue is fully underwritten by a syndicate of international banks including J.P. Morgan, Citigroup, HSBC and Credit Agricole."
---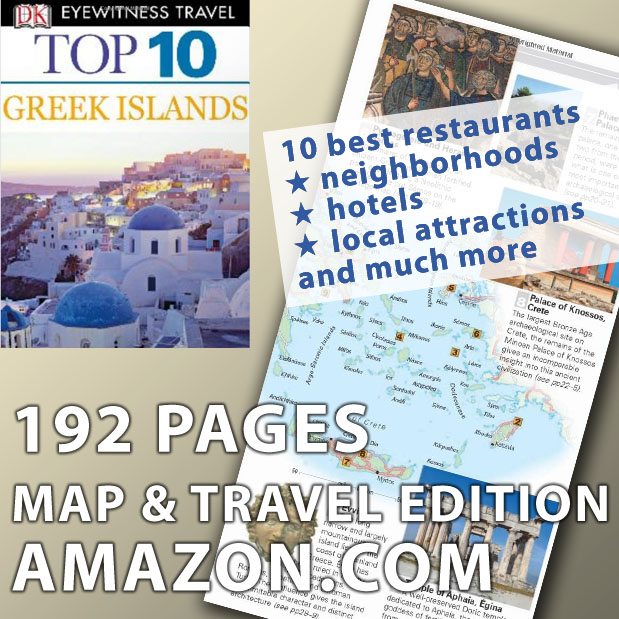 ---
May 1, 2013
Greece extends short-selling ban to protect bank stocks - eKathimerini
"Greece's securities regulator has extended a short-selling ban on bank shares to the end of July to protect investors while the recapitalisation of the country's cash-strapped lenders is completed.

Short-selling involves investors borrowing shares to sell on the market and later buying them back at a lower price to make a profit. Greek banking stocks have been heavily shorted as investors bet that stock prices would fall further during the country's sovereign debt crisis."
May Day strikes shut down ferry and trains - Fox News
"Ferry and train services in Greece have ground to a halt as unions hold a strike for May Day.

And hundreds of people are gathering for planned rallies in central Athens Wednesday.

The country's main labor unions are protesting soaring unemployment, which is the highest in the 27-country European Union, and the austerity measures the government is enacting in return for crucial bailout loans."
---
New Elstat data: Clothing and Footware up 32.8%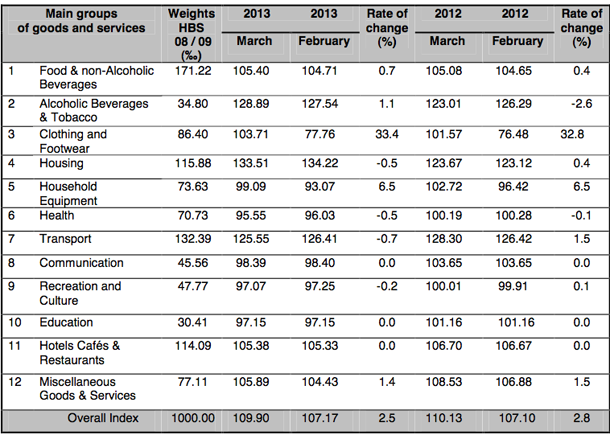 See this Elstat PDF Press Release for complete data
---
Recent Statistics [April 2013]
Improved conditions (vs. previous period) are in GREEN Declined conditions in BLACK
| | | |
| --- | --- | --- |
| Consumer price index | Apr 13/Apr 12 | -0.6 |
| Harmonized Index Consumer Prices | Apr 13/Apr 12 | -0.6 |
| Gross Domestic Product (GDP) | Q4 2012 | -5.7% |
| Unemployment rate* | Q4 2012 | 26.0% |
| Industrial Production (non-construction) | Mar 13 / Mar 12 | -0.7% |
| Turnover Retail Trade | Feb 13 / Feb 12 | -14.0 |
| Producer Price Index Industry | Mar 13/Mar 12 | 1.5 |
| Building (volume) | Feb 13 / Feb 12 | -47.0% |
| Population count 2001 | 10,815,197 | |
| (2008 Eurostat Estimate Population) | 11,262,000 | |
| Registered Population 2011 | 9.903.268 | |
| Resident Population 2011 | 10.815.197 | |
*Worst numbers are for youth, with 61.7% unemployment for those in the 15-24 age group.
---
Greece is 'intermediate'
Greece, said Artistotle, is geographically intermediate, between Europe, apparently incapable of civilisation, and south-west Asia, where where only the King of Persia was fully a free man; and the Mean, or medium, to him was the best. Modern geologists add that the Aegean basin is a slab of the earth's crust which has sunk and tipped, leaving only a rim (the Greek peninsula and Crete) and mountain tops (the other islands) above sea-level.
Greece can therefore support a population, on its small though fertile plains, only much smaller than that of the adjacent slab of Asia Minor; a fact which affects the whole of Greek history. Greater wealth must be found overseas, by trade of colonization; and when adjacent powers in Italy or Asia are strong, Greece is threatened. Persia attempted conquest; Rome, the Franks and Turkey achieved it.
On the other hand, Greece enjoys, with its variety of scenery, clear air and summer heat tempered by north winds, an intensely stimulating environment; and when free, three times it has produced great art: the bronze-age Minoan-Mycenaean, the Classical and the Byzantine; all completely different, all unique."
From The Living Past of Greece: A Time-traveller's tour of historic and prehistoric places, by A. R. and Mary Burn. Published by Little, Brown and Company. 1980. Quote from page 9.
---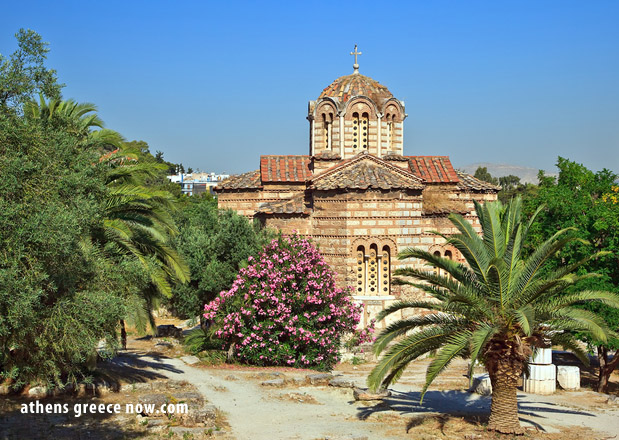 Byzantine Church of the Holy Apostles
---

---
See the main archive index of all collected news articles and pages on Athens Greece Now.