Greece and the economic crisis
---
July 25, 2017
Greece raises €3bn in first bond sale for three years - Financial Times
"Deal marks growing confidence in recovery and is a step nearer to ending bailout programme

The country has raised €3bn with a new five-year bond, of which around half came from existing investors in its 2019 debt who agreed to swap their holdings for a slice of the new issue.

They were paid 102.6 cents on the euro — amounting to a €40m premium — for doing so. The notes were trading as low as 90 cents as recently as February.

The bond was priced a yield of 4.625 per cent, tighter than the initial guidance from bankers of about 4.8 per cent."
---
Greece on right reform path, but needs to keep 'pedalling': Moscovici - NY Daily
"Moscovici, who was visiting Athens, said the crisis-hit country was at a crucial juncture and urged Greece to keep up economic reforms.

"To legislate a reform is positive but to implement it is more significant," he told reporters.

He also said he was confident Greece could return to bond markets at "logical yields".

"Returning to the markets is an important first step," Moscovici told reporters. "
---
Banks discern many benefits in Greece's new bond issue- eKathimerini
"Domestic lenders expect to absorb some 1 billion euros from Greece's first bond issue since 2014. The banks will swap paper maturing in 2019 for the new issue, a move set to fetch certain capital gains given the difference in interest rates and the maturity period. Besides the swap, local banks also intend to proceed with a slight increase in their Greek bond holdings.

Bank officials told Kathimerini that the country's return to the markets constitutes a major step toward restoring normalcy."
---
July 24, 2017
Greece launches first bond sale since 2014 - UK Guardian
"Greece's offer to buy back some of its existing five-year bonds is good news for investors.

Anyone who bought the debt last year, when they traded below their face value, can now sell them back for a profit: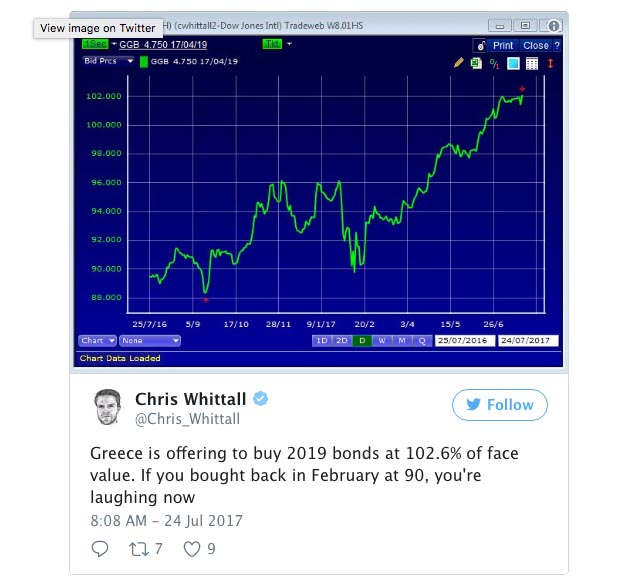 More Coverage:
Greece attempts bond comeback after 3-year absence - MSN
Greece announces new 5-year bond issue after 3-year market exile - Reuters
---
Goldman Sachs and HSBC are among 6 banks advising Greece on its first bond issue since 2014 - Business Insider
"The €4bn 4.75% 2019 bonds have been trading at a record low yield, bid below 3.5% according to Thomson Reuters prices, making it an opportune time for the country to issue its first deal since 2014.

Greece has a total debt pile of €325bn, according to Thursday's sustainability analysis from the IMF."
---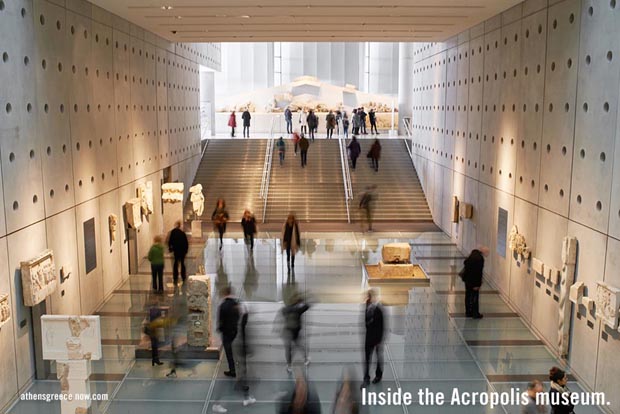 ---
July 23, 2017
Greece and Turkey struggle in aftermath of quake that killed two UK Guardian
"The 6.7-magnitude quake left hundreds more injured in the Turkish resort of Bodrum, about 12 miles (20km) across the sea from Kos. Tourists have faced flight delays and the damaged main harbour was closed for a second day.

"Given the amount of people outside at the time, having only two victims is a miracle," said the deputy Kos mayor, David Yerasklis.

The undersea quake struck at 1.31am on Friday between Kos and Bodrum, when many tourists in both places had been out enjoying the nightlife."
---
IMF: Greece Must Implement Measures in 2019 and Countermeasures in 2023
"According to the Fund, countermeasures (1% of GDP from social spending in 2019 and 1% from tax cuts in 2020) should be expected to apply from 2023 onwards.

The IMF report says that the high levels of non-performing loans in Greek banks and the weak quality of their funds represent a serious risk to the sustainability of public debt. The 10-billion-euro cushion for the recapitalization of banks may not be sufficient. For this reason, it proposes to carry out an assessment of their assets before the end of the program in order to identify in due time the impact that any additional capital needs may have on the sustainability of sovereign debt."
---
July 22, 2017
Residents, tourists in Greece sleep outdoors after quake - Bozeman Daily Chronicle
"Residents and tourists were too afraid to return to their homes and hotels, camping out instead in parks and olive groves, or slumbering in their cars or on lounge chairs.

The most seriously injured in Greece were airlifted to hospitals on the mainland and the southern island of Crete, and at least two were listed in critical condition Saturday."
---
Eurobasket U20 Final Prediction: Israel vs Greece - bangthebook
"Israel are perfect so far in the competition, finishing the group phase with a 3-0 record and placing first in Group C. In the first round of the playoffs they eliminated Iceland with a 74-54 score and in the semifinals they eliminated France with a 74-52 score...

Greece are perfect so far in the competition, finishing the group phase with a 3-0 record and placing first in Group A. In the first round of the playoffs they eliminated Lithuania with a 76-72 score and in the semifinals they eliminated Spain with a 77-56 score..."
---
UN's Eide in Cyprus on Monday amidst criticism - Protothema
"One day earlier, Greek Foreign Minister Nikos Kotzias said in Nicosia that Eide had not prepared satisfactory the failed UN-brokered Conference on Cyprus in Crans-Montana, Switzerland, earlier this month."
---
July 21, 2017
EU offers post-quake help to Greece - FOX
"The EU is offering emergency equipment, personnel and satellite imagery to help Greece deal with the aftermath of the overnight earthquake.

The bloc's commissioner for humanitarian aid, Christos Stylianides, offered condolences and said "the EU offers its full support" after Friday's quake that killed two people on the island of Kos. The quake, which also struck the shores of nearby Turkey, injured some 200 people."
---
Aegean Sea Earthquake Rocks Greece, Turkey Resorts - NBC
"The quake struck about 6.2 miles south-southeast of Bodrum but most of the damage was recorded on Kos, which is southwest of Turkey's southeastern coast, according to the Associated Press.

...Greece's deputy minister of shipping and island policy said on state TV that most of the injuries are believed to be minor. The temblor has prompted a warning to avoid beaches.

... "I saw everything shake. We really felt it. Everyone is in fear and out on the street," Elif Bereketli, 30, a journalist who was in Aydin province in Turkey, told NBC News by phone."
---
Earthquake rocks Greece and Turkey: Two dead on Kos as hundreds of tourists hurt amid tsunami - UK Telegraph
"At least two tourists have been killed and more than 500 others injured after a powerful earthquake shook the Greek Islands and Turkish coast, triggering a small tsunami.

The 6.7-magnitude quake struck in the Aegean Sea on Thursday night south of the Turkish city of Bodrum and east of the small Greek island of Kos - both areas popular with British holidaymakers.

It sent a building crashing down on tourists at a bar in the Old Town of the main port on Kos, killing two men - a 27-year-old from Sweden and a 39-year-old from Turkey - and injuring scores of others in scenes of panic."
Quake Kills Two in Greece, Injures 120, Some Critically - WSJ
Turkey and Greece hit by strong earthquake: two dead and 200 injured – as it happened - UK Guardian
---
July 20, 2017
IMF Board Set to Approve Greece's Latest Bailout - WSJ
"A new cap on debt in the International Monetary Fund's latest Greek bailout due to be approved later Thursday keeps pressure on Europe to deliver debt relief and prevents Athens from raising fresh cash in the markets anytime soon.

The IMF's board is set to green light Greece's bailout, but only "in principle," since it still considers the country's debt is "unsustainable" without significant debt relief by Athens' European..."
---
Greece waiting for 'right moment' for bond market return - nwitimes
"Greece lost market access due to high interest rates in 2010 and briefly returned with a 2014 bond issue before seeking additional bailout money the following year.

The current bailout program, funded by other eurozone members and monitored with help from the International Monetary Fund, ends in one year."
More Coverage:
Any market foray should be first step to full return, gov't says - eKathimerini
Greece's return to the bond market should be done in a 'lasting way': ECB president Draghi - MSN
Greece Explores Market Return After Three Years' Exile Under Lenders' Watch - US News
---
Greece's Trainose sale to happen next week and OLTH to wait - Tornos
"Greek state sell-off fund TAIPED is said to have received a few days ago a response from Trainose's prospective buyer, Ferrovie dello Stato Italiane, on the final touches to the transaction contract, including a provision that the public service subsidy will not exceed 50 million euros per year including value-added tax. "
---
July 19, 2017
A fourth bailout for Greece may yet be needed - Capital GR
"...the economy of Greece is again showing tentative signs of recovery. Arise in the manufacturing PMI to above the "no change" level of 50 suggests that GDP probably just about expanded again in Q2, after a 0.4% y/y rise in Q1. What's more, some success in fiscal consolidation has caused the EC to recommend the termination of Greece's Excessive Deficit Procedure.

This has all resulted in an encouraging drop in government borrowing costs, with the ten-year yield now at 5.3%. Accordingly, there is speculation that the Government will soon try returning to financial markets, starting with a five-year debt issue."
More coverage:
Goldman Sachs: Unlikely direct integration into QE, likely a fourth program - Naftemporiki
---
35 arrested in migrant camp clashes - SF Gate
"Clashes have broken out for the second time in eight days at a crowded migrant camp on the Greek island of Lesbos.

Authorities said 35 migrants were arrested Tuesday for public disturbance offences, after police used tear gas against stone throwing protesters at the Moria camp. "
---
Yes, Greece Can - Bloomberg
"The Hellenic Republic had been laying the groundwork to issue as much as 4 billion euros ($4.6 billion) in five-year bonds after repaying 6 billion euros of its existing debt this week. But the funds to pay down that debt came from the European Stability Mechanism, so Greece's overall debt hasn't been reduced, simply extended.

...Another option would be to allow some of Greece's 15 billion euros of debt that matures in a year or less to mature without being replaced with new debt."
---
Greece to Chair OECD High Level Meeting on Tourism Policies for Sustainable Growth - gtp.gr
"This is the first time Greece will chair the OECD's tourism committee's meeting. "This is a result of the efforts made to upgrade Greece's international presence and establish closer relations between the tourism ministry and the OECD in the field of tourism," the tourism ministry said an announcement on Wednesday. "
---
Light earthquake: M4.1 quake has struck near Crete, Greece - earthquakenewstoday
"Event epicenter was 59 km (37 miles) from Irákleion (c. 137 200 pop), 49 km (30 miles) from Chaniá (c. 54 600 pop), 9 km (5 miles) from Rethymno (c. 29 900 pop), 61 km (38 miles) from Néa Alikarnassós (c. 11 900 pop), 52 km (32 miles) from Gázi (c. 9 700 pop), 74 km (46 miles) from Goúvai (c. 7 800 pop). Country/countries that might be effected, Greece (c. 11 000 000 pop). Closest city/cities or villages, with min 5000 pop, to hypocenter/epicentrum was Goúvai, Néa Alikarnassós, Irákleion."
---
Government skyrockets prices with levy 2%-6% on computers, tablets, smartphones and cameras - Keeptalkinggreece
"The new tax, the so-called "tablet levy" of 2% will be imposed on any appliance with a RAM memory exceeding 4GB.

A levy of 6% will be imposed on devices recording image and sound as well as electronic storing discs of more than 1Tetrabyte (TB).

A levy of 4% will be imposed on photocopy machines, scanners, photocopy paper and hard disc of up to 1 TB."
---
Hydra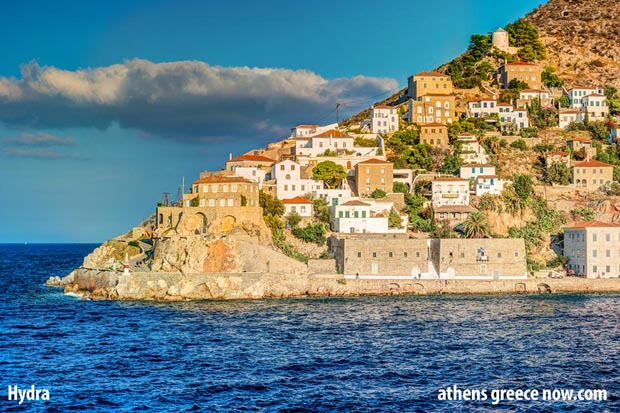 ---
July 18, 2017
Piraeus Bank Races to Reach ECB Target for Reducing Bad Loans - Bloomberg
"CEO Christos Megalou must offload 4 billion euros ($4.6 billion) in bad loans by the end of the year under a restructuring plan worked out with the European Central Bank's supervisory arm months before he took over at the largest Greek lender.

"There is a decision of this management to accelerate the implementation of the restructuring plan in order to pay back state aid as soon as possible," Megalou said in an interview at the bank's headquarters in Athens...
---
Greece aims to sell bonds for first time since 2014 - Financial Times
"Greece is looking to sell government bonds for the first time in three years in the latest sign of investor willingness to forget the past problems of former pariah sovereign borrowers.

...Since the 2010 eurozone debt crisis Greece has raised new debt only twice, in 2014, issuing €4.5bn of bonds at three- and five-year maturities."
---
Making Greece a medical tourism destination - Neos Kosmos
"...This prospect was discussed when Bill Papastergiadis met with the Mayor of Maroussi Giorgos Patoulis, who is also chair of two significant Greek institutions: the Athens Medical Association and the Central Union of Greek Municipalities. They were not alone.

Also present was Philip Dalidakis, Victoria's Minister for Small Business, as well as the vice president of the International Institute of Greek Doctors, Konstantinos Pantos. The meeting was about the upcoming medical tourism convention, in Melbourne on 25 and 26 November 2017 for business operators, academics, medical experts, and tourism professionals. For Greek Australian doctors, this is a unique opportunity for Greece to strengthen its position as a medical tourism destination, something that will be beneficial to both the medical sector and local communities around the country."
---
Record high number of insured vehicles - eKathimineri
"According to data from insurance companies, the number of insured vehicles has reached 6.2 million, the highest in the last few years at least, up from 5.6 million in end-2016.

The same data also reveal that the majority of newly insured vehicles are motorbikes..."
---
July 17, 2017
Draft law in the works for developing seaplane bases across Greece - Tornos
"Four years and three months after a law was passed regarding strategic and private investments to accelerate licensing for seaplane bases in Greece, this market remains on paper.

Nevertheless, government sources say that in the coming months the final draft of the bill regarding seaplane airports will be tabled in Parliament."
---
Bill pledging wage hikes and jobs under scrutiny by creditors - eKathimerini
"A European Commission official indicated over the weekend that Greece's lenders are aware of some aspects of the new bill but intend to assess it in its entirety.

Government officials had initially indicated that the bill would regulate the situation with local authority workers, thousands of whom have been employed on renewable short-term contracts for years."
---
Can Greece Become Global Maritime Capital? - marinelink
"...The study gauging the views and forecasts of 779 Greek shipping executives revealed that the most attractive and comprehensive framework among shipping hubs or "clusters" today is Piraeus, Greece's biggest port.

The executives believe that its enhancement would strengthen their business – in spite of the the growing attractiveness of competing maritime centers."
---
July 15, 2017
Suspect in killing of American in Greece claims innocence: 'Wrong place at the wrong time' - Fox News
Video Report and Article
"...Nenad Javanovic, a 22-year-old Serb, claims he did not take part in the fight that killed Bakari Henderson, also 22, in Zakinthos' rowdy tourist district of Lagana on July 7.

He told Serbian media that he was "at the wrong place at the wrong time."
More Coverage:
Suspect in beating death of US tourist in Greece is jailed - Washington Post
---
Greece hands Cyprus secret files on 1974 coup - Financial Times
"...Three rooms under Greece's foreign ministry have contained the 21,000 pages of the "Cyprus File", documenting the chain of events that led to the coup by the then military regime in Athens against Archbishop Makarios, the island's leader. The coup prompted a Turkish invasion of Cyprus days later, leading to the division of the island that has subsequently haunted regional politics, while it also sparked the collapse of military rule in Greece."
---
Turkey Still Awaits Greece's Decision for the Extradition of Eight Turkish Officers, Ambassador Cevik Says - Greek Reporter
"...Speaking to both Greek and foreign correspondents, Cevik said the attempted coup was led exclusively by "Fethullah Gulen's terrorist organisation FETO" and by Turkish military officers, using this opportunity to refer to those that had fled to Greece.

"Eight putschists fled to Greece in a helicopter on the morning of July 16. Greece condemned the attempted coup, expressed its solidarity and said that the putschists were not wanted in Greece," he said, noting Turkey's appreciation for Greece's stance."
---
Admin. Reconstruction Min Gerovassili expresses optimism over solution at Thursday's Eurogroup - Athens News Agency
Administrative Reconstruction Minister Olga Gerovassili estimated on Monday that a solution will be reached on Thursday "that will reflect a new positive step forward for Greece" speaking to Flash radio.
---
July 14, 2017
Greece Hands Over Classified 'Cyprus File' to Cypriot Parliament - Greek Reporter
"...Speaking in parliament, Greek Prime Minister Alexis Tsipras said the decision was not related to recent developments in the talks and had been taken a long time ago.

He said it was an "unfulfilled debt" towards the people of Cyprus and a tribute to all those who fought and sacrificed their lives during the 1974 coup against Archbishop Makarios and the subsequent Turkish invasion and occupation of part of the island's territory."
---
American tourist's beating death in Greece: What to know - ABC News
Nine men -- one Greek, seven Serbs and a British citizen of Serb origin -- have been arrested so far and are accused of intentional homicide. The investigation is ongoing and authorities are searching for six more suspects identified from the surveillance footage, police said.

Four of the men arrested, all Serb nationals, appeared before a judge Thursday for initial testimony regarding Henderson's death. Two of them were released on bail, which was set at 5,000 euros, or about $5,700, each.
---
Change of guard in the cards for key Greek bailout monitors - eKathimerini
"A key switch is expected in September when the European Commission representative, the Irishman Declan Costello is likely to leave his post, opening the way for a replacement from Portugal."
---
Greece Applauded for Budget Cuts as Investors Warm to Its Bills - Bloomberg
"The European Commission, the EU's executive arm, announced that it will recommend the removal of its so-called excessive deficit procedure for Greece, a step taken when a member state's budgetary shortfall gets too big, according to a statement on Wednesday.

While largely symbolic, the decision marks an important step for Greece, which has been relying on international bailouts to stay afloat since 2010, as it seeks to return to normality and regain market access. Adding to signs of a brightening outlook, foreign investors bought 59 percent of the 812.5 million euros ($928 million) of three-month treasury bills the government sold on Wednesday."
---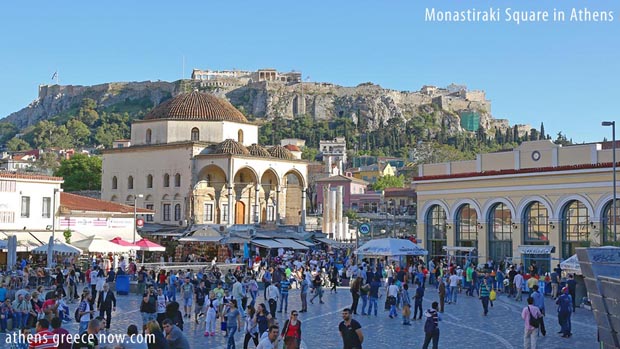 ---
July 13, 2017
Turkey threatens Greek Cypriots with measures over gas drilling - eKathimerini
"Speaking on Thursday, Turkish Foreign Minister Mevlut Cavusoglu said that Turkey's energy and foreign ministry were considering steps against Nicosia for moving ahead with drilling operations for natural gas, to which, he added, Turkish Cypriot also have rights to.

Cavusoglu made his remarks a day after the West Capella drilling vessel, operated by France's Total and Italy's Eni, arrived in block 11 of Cyprus's exclusive economic zone (EEZ) to commence operations."
Timeline of Cyprus History and Greek/Turkey relations
---
Southern Europe swelters as heatwave sparks wildfires and closes tourist sites - UK Guardian
"A heatwave is rolling across southern Europe, fuelling wildfires, exacerbating droughts in Italy and Spain and leading the Greek authorities to close some of the most popular tourist sites."
---
Greece charges nine with manslaughter for death of American tourist - UPI
"The fight in which Bakari Henderson, a 22-year-old graduate of the University of Arizona, died occurred on the Greek island of Zakynthos on Friday. The nine men include seven Serbians and two bar workers -- identified as a 34-year-old Greek bartender and a 32-year-old British citizen of Serbian origin who worked as a bouncer.

Five of the detained men were ordered to be jailed ahead of their trials, while the other four suspects were scheduled to have hearings later this week..."
---
Greece's return to bond markets could be an important error, analyst says - CNBC
"...Going back to the markets early is a big mistake. Greece will have to pay a risk premium of several hundreds of basis points for medium term funding. All the private funding that Greece might find now will mature well before the European loans," Daniel Gros, director of the Centre for European Policy Studies, told CNBC.

Issuing new bonds is an important step for Greece to show its able to stand on its own feet. The last time Athens raised money in the bond market was in 2014. At the time, the government claimed that the sale marked the beginning of the end of tough austerity measures following a first bailout program in 2010. However, a few months down the line Greece asked for another bailout.
---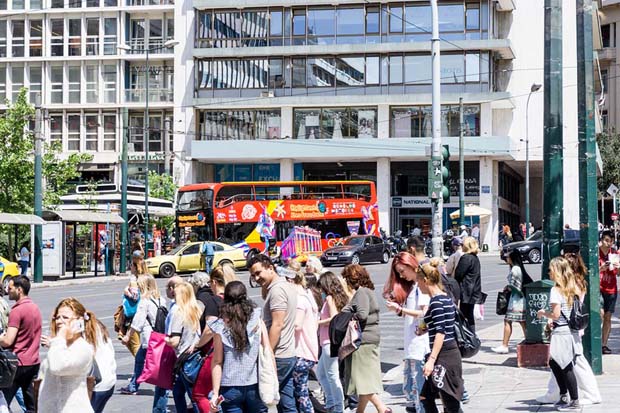 ---
July 12, 2017
After 8 years of austerity, Greece gets EU budget approval - ABC News
"Wednesday's recommendation from the EU Commission to end the so-called excessive deficit procedure on Greece comes after a sharp improvement in the country's finances following years of spending cuts and tax increases and a recession that saw a quarter of the economy wiped out and unemployment and poverty levels swell.

"This is a very symbolic moment for Greece," said Pierre Moscovici, the EU's top economy official. "Greece is now ready to exit the Excessive Deficit Procedure, turn the page on austerity and open a new chapter of growth, investment and employment."
More Coverage:
European Commission Urges EU to End Disciplinary Measures Against Greece - Wall Street Journal
---
Time for Greece to rejoin global markets - eKathimerini
"For the first time since 2014, the environment is benign for Greece's quest to return to the bond markets: the completion of the second bailout review, the improved state of the Greek economy and the revitalized sense of purpose in the eurozone after Emmanuel Macron's victory in France all pave the road to success. Yield-hungry investors will grab Greek paper even before the country becomes part of the European Central Bank (ECB)'s quantitative-easing program."
---
Temperature Wednesday at 39 [102º] degrees celsius - Iefimerida
"Generally sunny weather on Wednesday with the temperature rising dangerously.

The winds will blow in the northern Aegean, temporarily up to 6 Beaufort southeast. The temperature will range high."
---
Turkey provokes by issuing NAVTEX and NOTAM in Cypriot waters - Protothema
"Turkey has reacted to the scheduled commencement of drilling for oil exploration in field 11 in the Cypriot waters by issuing a Notice to Airmen (NOTAM) and Navigational Telex (NAVTEX) for search and rescue operation exercises for Wednesday, July 12 and Thursday, July 13. The exercises are set to take place between 5 am and 10 am in the morning 14 nautical miles west of the Akama Peninsula within sea fields 5, 6 and 7, which Turkey has laid claims over."
---
July 11, 2017
---
ECB's Stournaras Says It's Too Early for Greece to Tap Bond Markets - Wall Street Journal
[WSJ Paywall]
"Greece's central-bank governor said the country has no need to return to bond markets this year, and called on the government to focus instead on privatizations as a way to win investors' confidence. "I think it's a bit early" to tap public markets, Yannis Stournaras said in his first comments on the issue since Greece reached a deal with... "
---
Friend of American fatally beaten outside bar in Greece: "I never once saw him angry" - CBS News
"According to another friend who was there but didn't want to be identified, Henderson and his friends had set their beers on a table in a place called Bar Code when two men allegedly grabbed their bottles, broke them, and held them out like weapons. This sparked a fight that spilled out into the streets. At some point, Henderson became separated from his friends as more than 10 people started beating him."
---
Piraeus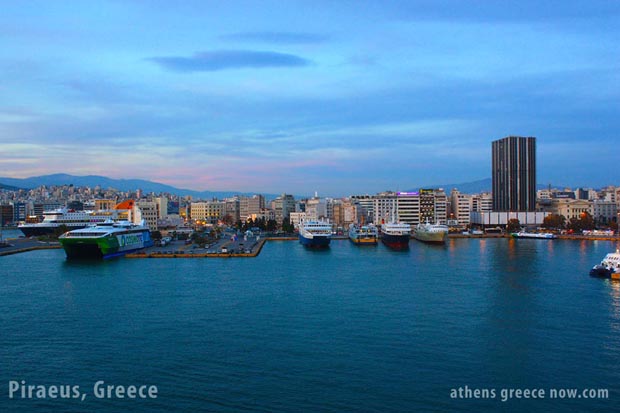 ---
July 10, 2017
---
Greece to establish state development bank by 2018 - Tornos News
"Greece is eyeing the creation by mid-2018 of a state development bank that would lend to small and medium-sized enterprises (SMEs) to aid the recovery from its long economic crisis, government officials said on Monday... "
---
8 Arrested In Beating Death Of 22-Year-Old American Visiting Greece - npr.org
"Bakari Henderson, 22, of Austin, Texas, was beaten by a group of at least ten people, according to media reports. He died on Friday, and the arrests were announced over the weekend.

..."Police say at least 10 people followed Henderson out of the bar, including the bouncer and another employee," CBS News reports. "They are accused of beating Henderson and leaving him unconscious in the street."
More Coverage:
Police reveal details about beating death of U.S. tourist in Greece - CBS News
"Witnesses told police that Henderson and his friends wanted to take a photo with a waitress, which angered one of the bouncers..."
Did a selfie lead to the beating death of an American in Greece? - USA Today
"The death of a recent U.S. college graduate in Greece may have been caused by an argument over a selfie. Aiden Kelley reports..."
---
Protest and fire break out at Lesbos migrant camp - Star Tribune
"Police said no injuries were reported from Monday's protest and that the fire believed to have been set deliberately at the Moria camp is still burning."
---
July 8, 2017
American college graduate beaten to death in Greece; 8 arrested, police say - ABC News
"The fight escalated into a brawl and Henderson was battered to death in the street, police said. Further details on the clash were not immediately clear, but police said it involved two groups of people.

Pavlos Kolokotsas, the mayor of Zakynthos, told ABC News that both groups involved had been drinking extensively."
---
Gov't seeks new way to evaluate civil servants - eKathimerini
"The Administrative Reform Ministry is seeking a new way to conduct assessments of the country's civil servants, one of a barrage of reforms demanded by Greece's international creditors...

Administrative Reform Minister Olga Gerovassili, who recently held fruitless talks with ADEDY representatives about the issue, is expected in the coming days to make a new attempt to address the deadlock which is said to have displeased Greece's creditors."
---
ELA ceiling lower by EUR 2.0bn - capital.gr
"ECB reduced the ELA ceiling of Greek banks to Eur41.6 bn from Eur43.6 bn previously, effective until July 20, 2017."
---
Greek PM rejects proposal by ND leader for special inquiry regarding Defence Minister Kammenos over Noor-1 case - Protothema
"Mr. Tsipras bluntly rejected the proposal tabled by Mr. Mitsotakis in a TV interview for a parliamentary inquiry into the involvement of Greek Defence Minister Panos Kammenos who contacted a convicted drug dealer over the Noor-1 case. Mr. Mitsotakis had called for the setting up of a special committee in parliament to investigate whether Mr. Kammenos had breached any laws by speaking to a convicted felon over the phone during an interview on Star TV on Tuesday night."
---
Harsh blame on Turkey for the "wreck" in Switzerland - Naftemporiki.gr
Not surprising: The Turkish Foreign Minister Mevlut Cavusoglu claims the talks' failure is due to the Greek and Greek Cypriot requirement that Ankara remove its troops.
"... the aim was to establish a framework agreement to continue with the agreement with Greece, with concluding negotiations in New York. "Something like that," he added, "it was not possible because when it came to the crisis for the Conference, Turkey refused to allow vertically written record series promises he had made to the Secretary [U.N. Secretary-General Antonio Guterres]."
More Coverage:
Talks on Cyprus reunification have failed - ABC News
"Unfortunately...an agreement was not possible and the conference was closed without the possibility to bring a solution to this dramatically long-lasting problem," Guterres told reporters.

"I want to express my deep gratitude and appreciation to the leaders of the two communities and to wish the best to all Cypriots north and south."
---
Cyprus Reunification Talks, 'Close, but Not Close Enough,' - NY Times
"While many issues remained unresolved, the deal breaker was a clash over what would happen to the more than 35,000 troops that Turkey has kept in the island's breakaway Turkish Cypriot north since 1974, when it invaded after a coup mounted by supporters of union with Greece.

...Turkey has indicated it would consider settling the decades-old problem in ways other than reunifying Cyprus as a federation, which has been the objective of peace talks for 43 years."
---
Greece bracing for another heatwave - eKathimerini
"...Greece is now bracing for another week of daytime highs in the 40C region, according to meteorologists, who say the new heatwave is expected to peak on Wednesday."
---
Evrytania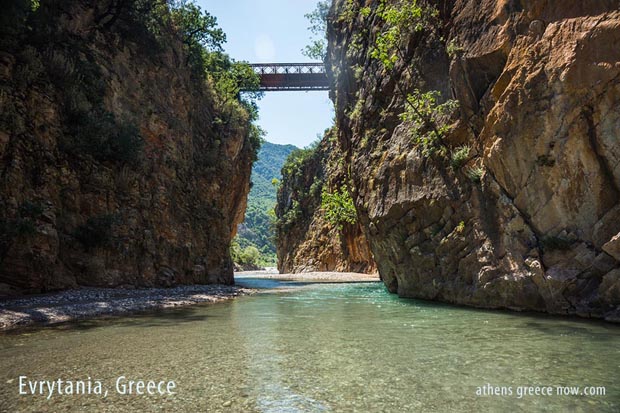 ---
July 7, 2017
EU Rescue Fund Approves 8.5 Billion-Euro Aid Payout for Greece - Bloomberg
"A tranche of 7.7 billion euros will be disbursed on July 10, the Luxembourg-based ESM said, while the remaining amount will be available from September, and granted only once Athens has cleared sufficient domestic arrears.

...Out of the 8.5 billion-euro payout, 6.9 billion euros will go toward debt servicing, and 1.6 billion euros toward the repayment of money owed by the state to domestic producers. The Greek government must clear its arrears with one euro of its own resources for every two euros of money from loans."
More Coverage:
Greece to Get Its Latest Big Tranche by EU Creditors - WSJ
---
ESM agrees to release 8.5 billion euro tranche of Greece bailout - Reuters
"The board of the European Stability Mechanism approved the release of a third tranche of bailout funds to Greece worth 8.5 billion euros ($9.68 billion) on Friday, the ESM said on Twitter."
---
American tourist, 22, beaten to death in bar brawl - Herald Extra
"Greek police say a 22-year-old American tourist has been fatally injured in a fight at a bar on the island of Zakinthos.... Police say a 34-year-old Greek and a 32-year-old British man of Serbian origin have been arrested and were to appear before a prosecutor on murder charges.
---
Athens launches crackdown on businesses using public areas for free - eKathimerini
"The initiative is part of an effort by local authorities to put an end to the illegal use of public space by establishments in downtown Athens, and to clamp down on those who use these areas without paying their dues to city authorities."
---
New timetable for Pylos Marina tender in Peloponnese, Greece
"A new timetable for the tender for the Pylos marina in Peloponnese, Greece was announced by Hellenic Republic Asset Development Fund."
---
Aggressive victims and the ERT memorial - eKathimerini
"Those in government want the perks of power but also need to maintain the fantasy of being revolutionaries. It is understandable that they should want to keep creating myths so as to justify whatever they do as the result of others' crimes. They claim victims from the past, they fabricate victims of the present, to hide their responsibilities."
---
National Greek Library and Opera House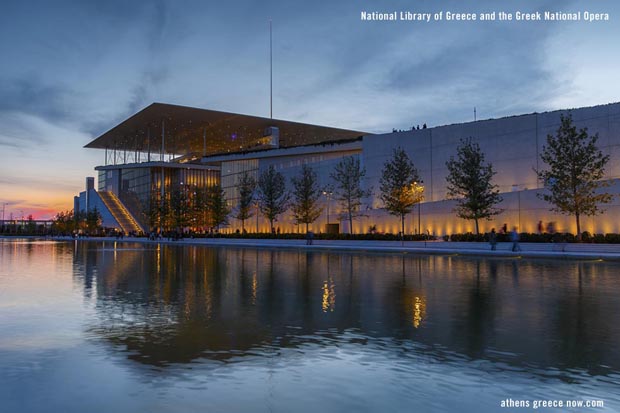 ---
July 6, 2017
Greece Aims at 6 Billion Euros in Privatisations Revenues by 2018 - NY Times
"...The country raised 500 million euros from asset sales last year, missing its bailout target by about 2 billion euros, mainly due to delays in completing the lease of 14 airports to a consortium led by Germany's Fraport.

The 1.2-billion-euro lease of regional airports was completed this year. Along with the sale of a 67 percent stake in Thessaloniki Port and a first 345-million-euro tranche from the lease of the former Athens airport Hellenikon, the lease will help Athens raise 2 billion euros in total this year, HRADF's chairwoman Lila Tsitsogiannopoulou said."
---
Greece's media watchdog decides for seven TV broadcasting licenses - Keep Talking Greece
"According to the decision a total of seven TV broadcasting licenses will be auctioned.

... The Council of State, the country's supreme administrative court, had rescinded the previous law legislated by Minister Pappas in 2016 according to which only 4 TV broadcasting licenses were to be auctioned. The Council of State ruled that the TV license law was against the Constitution."
---
Wildfire approaches birthplace of Olympic Games
"Greek authorities say a wildfire has come within 2 kilometers (1.2 miles) of Ancient Olympia — birthplace of the Olympic Games — as several large forest fires continued to burn around the country.

... By nightfall on Wednesday, two water-dropping planes had been deployed along with dozens of firefighters and local volunteers."
---
Glenn Kim presents Varoufakis's alternative currency plan - eKathimerini
"According to the plan, the government would start by handing civil servants vouchers amounting to 10 percent of their monthly salary, to be used exclusively for paying debts to the tax authorities, just like food vouchers are used. If the system had been successful it would have been expanded to other state payments and in other sectors."
---
---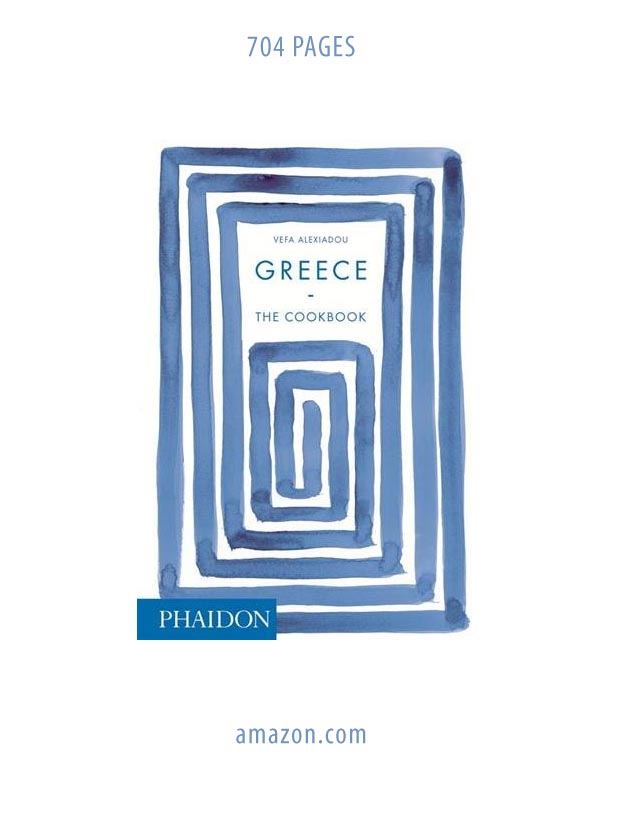 ---
July 5, 2017
UN chief heads to Cyprus Conference as expectations of deal take a nosedive - ekathimerini
"The return on Thursday to Switzerland of UN Secretary-General Antonio Guterres is part of the bid to push rival sides closer to an agreement after expectations of a deal took a nosedive on Tuesday, with Turkey insisting that it won't sign any agreement involving the withdrawal of all its troops from the island."
---
Another Blue Flag for Greece in Hersonissos, Heraklio in Crete - Tornos News
"Greece received another prestigious Blue Flag, the world imprimatur for quality clean beaches, as Lyttos Beach Hotel, located in Hersonissos, near Heraklio, on Crete was awarded the Blue Flag for a second year in a row for the water quality and cleanliness of its 350 metre shore."
---
EU beseeches member states to back Italy, Greece on migrants - ABC News
"EU Commission Vice President Frans Timmermans said, to the applause of legislators at the European Parliament on Wednesday, that "it would already make a world of difference in Europe if every single member state would live up to their commitments to show solidarity."
---
Archaeological sites in Athens to shut for strike - eKathimerini
"The three-hour work stoppage starting at 8 a.m. comes at the height of Greece's lucrative tourist season. Museums and archaeological sites are two of the main attractions for the millions who visit the country each year, particularly during the summer."
---
Turkish Foreign Minister demands guarantees and military on Cyprus - Protothema
"Turkish Foreign Minister Mevlut Cavusoglu said Turkey would out-rightly reject the prospect of withdrawing its military forces from the northern part of the island of Cyprus, during talks at Crans-Manotana in Switzerland on the Cypriot issue..."
---
Moody's expects NBG to be the first bank to repay its ELA over the next 12-18 months - Capital GR
"Moody's said on 3 July 2017 that NBG's sale of its 75% stake in Ethniki Insurance is credit positive because it will receive €718.3m that will boost its common equity Tier 1 (CET1) ratio by around 110bps and reduce its emergency liquidity assistance (ELA) funding."
---
Sunset on the Acropolis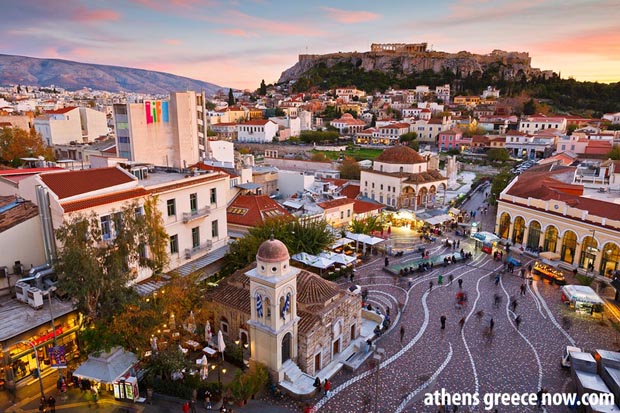 ---
July 4, 2017
New delay for Greece's tranche payment - eKathimerini
"....while the government is sounding triumphalist over the decisions of the June 15 Eurogroup, it has allowed the tranche payment to be delayed until the last minute before the date the July obligations are due. It may have voted for pension cuts and tax discount reductions totaling 4.5 billion euros, but it has got stuck on specific regulations that carry some special political weight.

Sources say that instead of the decision that was to be made on Thursday, July 6, the European Stability Mechanism will instead have to decide on the eagerly anticipated disbursement a week later, on July 13 or 14. Greece has to pay private bondholders 2 billion euros on July 17, another 290 million euros to the International Monetary Fund, and some 4 billion euros to the European Central Bank on July 20. The tranche will amount to 7.7 billion euros, with another 800 million due to be disbursed in the fall."
---
Greece's National Bank to sell Romania, Serbia, Cyprus operations - Reuters
"Greece's second-largest lender National Bank (NBG) (NBGr.AT) will sell more assets in the Balkans, including its Romanian operations, to complete a restructuring plan agreed with European authorities, its chief executive said on Tuesday.

Like other big Greek banks, NBG has been slimming down by divesting assets and foreign subsidiaries to focus on banking at home, with proceeds boosting capital ratios and liquidity."
---
Cyprus' record heat wave kills 2; Greece, Turkey also baking - ABC News
"Cyprus' Meteorological Service said weekend temperatures across the island were the highest on record for the month of July in 30 years except in the capital Nicosia where a scorching 44.6 degrees Celsius (112.3 Fahrenheit) was a degree less than the 2010 record."
---
Greece's Sovereign Debt And Economic Realism – Analysis - eurasiareview
"The crazy thing is that the real economic substance of the Greek debt resolution was settled long ago: the Europeans replaced private creditor debt with public sector debt, most of which will realistically never get paid, and also provided the Greeks with the additional funds needed to keep its banks open in the face of significant capital flight as well as some additional funds to permit small primary deficits. The arguments going forward are all about a few billion euros a year in possible repayments as well as aspirational reforms. But politics and accounting have left the parties – the Greeks, the IMF, and the Northern Europeans (Germans) – in a never-ending cycle of frustrating negotiations, unrealistic promises and projections, and short-term fixes."
---
July 3, 2017
Greece legalises medicinal cannabis - Neo Kosmos
"From now on, the country is turning its page, as Greece is now included in countries where the delivery of medical cannabis to patients in need is legal," said Prime Minister Alexis Tsipras.

The joint ministerial decision reached by Ministers of Health and Justice was published in Friday's edition of the Government Gazette.

It was noted that cannabis will no longer be classified as a Table A drug, where it was listed among the most restricted narcotics including heroin and LSD, to Table B which features methadone, cocaine and opium."
---
Downfall of Greece: What happened to the world's most glorious country? - Indian Economist
"One article, titled '2,000 Years of Decline', pronounced: 'The modern Greeks prove their dissimilarity to their ancestors almost daily. The country that gave rise to Socrates and Plato, Myron and Phidias, Pindar and Sophocles, Pythagoras and Thucydides, today has no significant poets, composers, artists or philosophers.'

That stereotype long predates the current crisis. A half century before that issue of FOCUS, in the hit film Never on Sunday (1960), the director Jules Dassin played the part of the American tourist Homer Thrace, a man who has journeyed to Greece in search of its ancient philosophers. Disillusioned within hours of disembarking, he interrogates a prostitute named Ilya (played by Melina Mercouri) about what has gone wrong: 'No society ever reached the heights that were attained by ancient Greece! It was the cradle of culture. It was a happy country. What happened? What made it fall?'

But was there ever such a Greek Golden Age? When, exactly, was Greece great? In fact, nostalgia for a lost greatness can be found in the so-called Golden Age itself."
---
Eurozone Manufacturing Accelerates as Greece Joins In - Wall Street Journal
[Uses paywall]
"Eurozone factories had their busiest month in more than six years during June, with the expansion even spreading to Greece, a persistent laggard.

The pickup is consistent with other indications that economic growth in the currency area accelerated in the three months to June, having already speeded up in the first quarter."
---
Printed media crisis and paywalls: We are closer to losing our news than we think - Protothema
"There is a lot of turmoil in the media and especially in printed Media as we know them. Every year the risk of traditional newspapers shutting down is increasing. And this is why many news media giants are testing new ways in making themselves sustainable. The years were you just had to be on the internet are long gone. Being on the Internet is not enough. New business models and sophisticated strategies are needed in order to continue "living". "The publishing business is being rocked by steep declines in print revenue that have yet to be matched by digital gains. Global magazine ad revenues are forecast to fall 10 per cent and newspaper ad revenues 9 per cent this year by Magna Global, the media buying agency."
---
Chouliarakis: We should speed up privatisation program - To Vima
"The privatizations that have been planned for this year is the selling of 66% of DESFA (Hellenic Gas Transmission System Operator S.A.) and 67% of OLTH (Thessaloniki Port Authority) Mr. Chouliarakis also admitted that "No one expected debt relief measures at this phase" adding that "medium-term measures would be clarified at the end of the bailout program, in 2018".
---
BoG downgrades its 2017e GDP growth forecast - Capital GR
"The weaker growth dynamics can be attributed to the long delay in completing the second review and to the consequent surge in uncertainty, which led to a considerable decline in investment. This, combined with the sharp increase in the tax burden, dampened the initial forecast," BoG said in its monetary policy report."
---
Tsipras defends gov't in Parl't, Mitsotakis calls him 'corrupted' - eKathimerini
"Referring to New Democracy and its leader Kyriakos Mitsotakis, Tsipras referred to a "disaster-mongering mill" that had been in operation until the deal was reached on June 15.

... Mitsotakis hit back hard, declaring to Tsipras that, "power has corrupted you" and reiterating his demand for snap elections.

He added that the government is a "champion" at imposing taxes but a loser in its purported crackdown on tax evasion."
---
July 2, 2017
Greece Civil Protection warns of high risk for wildfires - Keep Talking Greece
"The Civil Protection has set the risk at Level 4.

The areas where the risk of wildfires is extremely high are:

the Ionian Islands
Achaia Corinth, Messinia and Lakonia in Peloponnese
Attica
Boiotia and Fokida "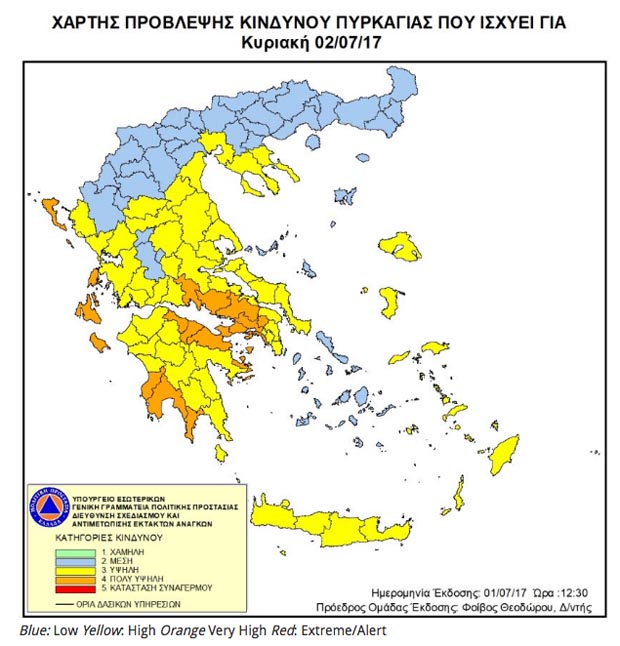 ---
Cyprus talks at Swiss resort to resume Monday - eKathimerini
"Guterres said his meetings on Friday between Cyprus President Nicos Anastasiades and Turkish-Cypriot leader Mustafa Akinci, and the Greek and Turkish foreign ministers were "positive and results-oriented."

For his part, Greek Foreign Minister Nikos Kotzias praised the UN chief as a "prominent personality on the international stage."
---
Schaeuble says Greek governments to blame for pension cuts - eKathimerini
"The German minister stressed in an interview with Ta Nea newspaper on Saturday that the Greek governments are the ones that decided the mix of policies needed to achieve the country's targets. He also said that the International Monetary Fund will never be involved again in a program to rescue a European country."
---
12 Greek SuperFoods for You to Enjoy on Your Trip to Greece - Adam Kemp
Article discusses 12 Greek foods that have strong health effects, not just as diet staplesbut as medicines forvarious problemsand injuries. Discussed are:
The Olive and Olive Oil
Kozani Crocus
Trahana
Chios Mastic Gum
Messolonghi Avgotaraho
Cretan Spiny Chicory
Sage
Raisins
Honey
Barley Rusks
Traditional Yoghurt
Oregano
---
Thassos Island Greece - Golden Beach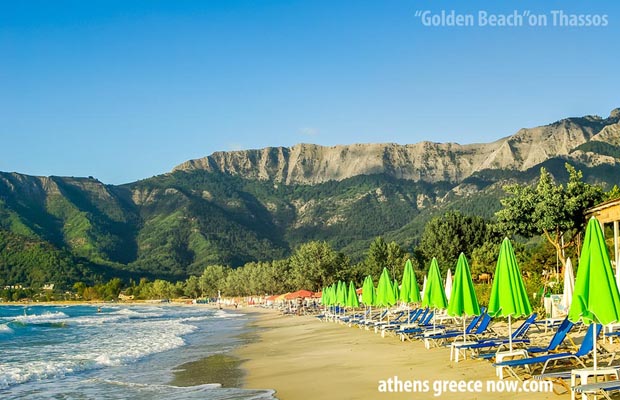 ---
July 1, 2017
'Tourism is our lifejacket': debt-stricken Greece gets record number of visitors - UK Guardian
"Debt-stricken Greece is braced for a record-breaking 30m holidaymakers this year, almost three times its population. Addressing the Panhellenic Exporters Association last week, the tourism minister Elena Kountoura said that between January and May there had been a noticeable increase in arrivals, revenues and occupancy rates with summer bookings in some areas rising by as much as 70%. Travel receipts grew by 2.4% or €23m (£20m).

After eight years of grinding austerity, the influx is a tangible gift, on a par with the €8.5bn financial lifeline thrown Greece earlier this month to once again avert default."
---
Cyprus talks at Swiss resort to resume Monday - eKathimerini
"The Cyprus talks in the Swiss resort of Crans-Montana are due to continue on a more optimistic note Monday as United Nations Secretary-General Antonio Guterres has said that there is a "clear understanding" between the Greek and Turkish sides with regard to what is needed to reach a comprehensive deal."
---
Greek central bank cuts growth outlook, warns of risks from debt pile - Reuters
"Greece's central bank on Friday cut its growth forecast for the year and issued a grim warning that lack of clarity from lenders over resolving the country's debt mountain held potential risks that may require further financial aid in future.

Presenting its annual monetary policy report, the Bank of Greece said Greece's creditors needed to specify their commitment to medium-term debt relief measures to ensure the sustainability of debt over the medium to long term."
---
---
---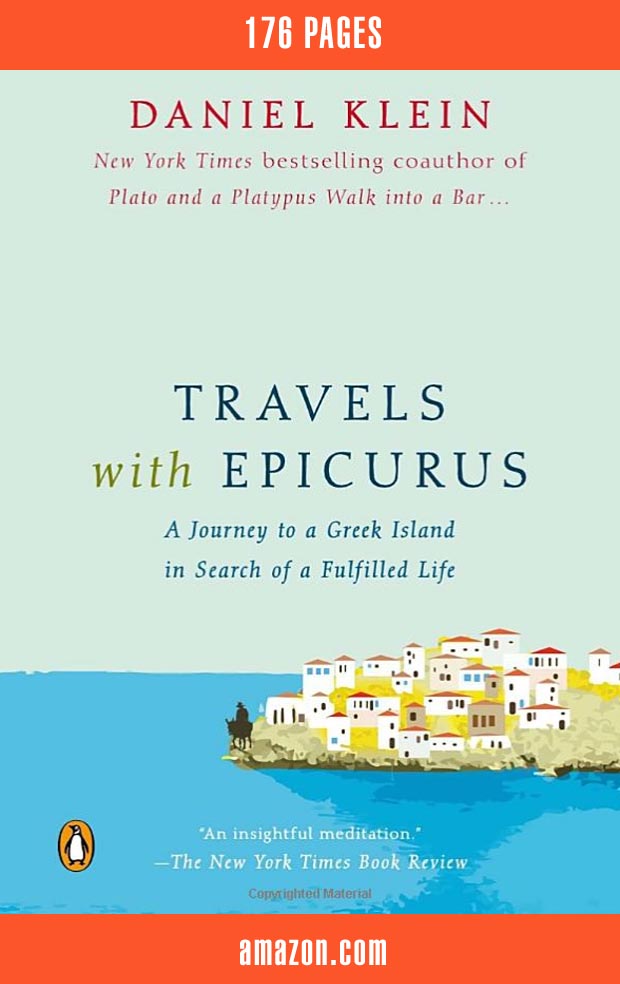 Travels with Epicurus: A Journey to a Greek Island in Search of a Fulfilled Life
---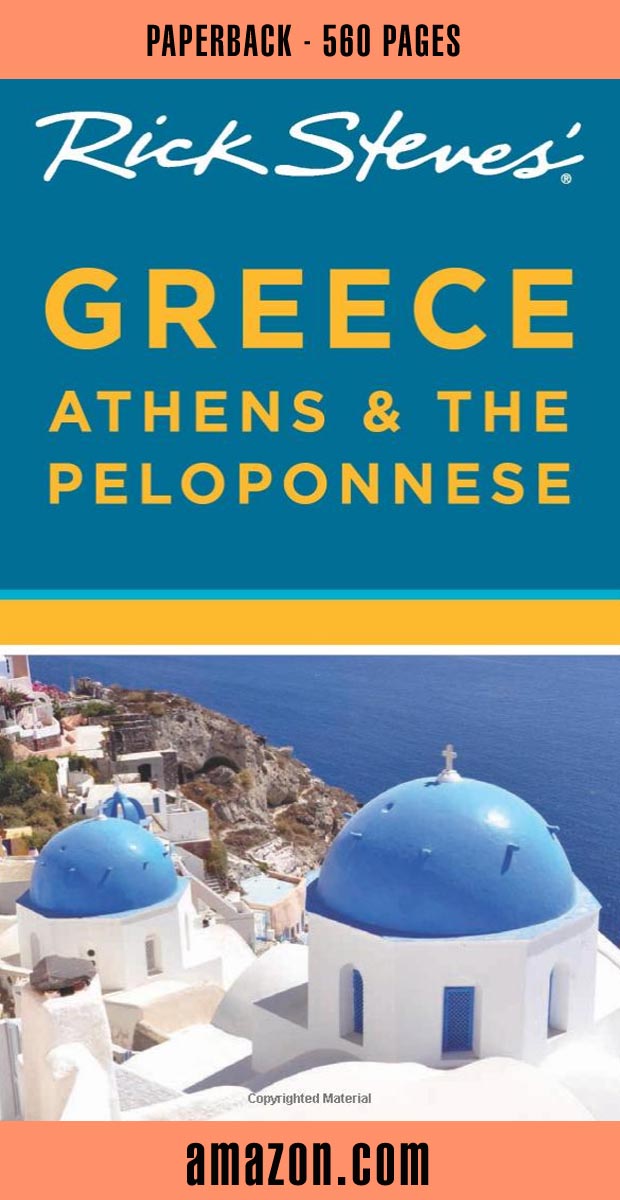 Rick Steves Greece: Athens & the Peloponnese
---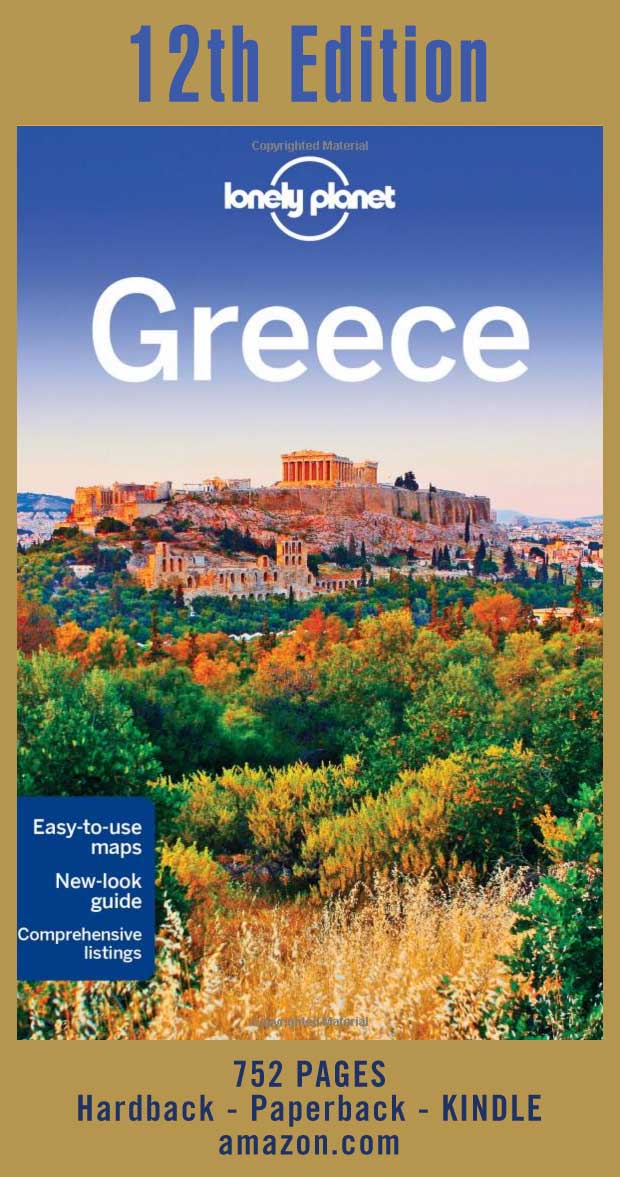 ---
---