Greece and the economic crisis
---
---
January 21, 2018
Greece set to win plaudits but not next tranche of bailout cash - Financial Times
"For Greece to receive its next allocation of bailout money, estimated at €6.7bn, a further check will need to take place in early February to ensure that the remaining measures have been completed. But at Monday's meeting ministers will say the recent progress in effect closes the latest review of the bailout.

A delay could push back a bond sale that Athens had pencilled in for the end of this month — a big step for a country that is seeking to recover sovereignty over its economic policy and end its dependence on creditor cash."
---
Large protest in Greece over Macedonia name row - Straits Times
"Hardline clerics, far-right leaders and Greek diaspora groups had called for yesterday's (Sun) rallies, with the turnout exceeding media estimates of 30,000."
---
S&P upgrades Greece by one notch to 'B' - Reuters
"Our ratings on Greece are supported by the unusually low cost of servicing much of its general government debt burden and official creditors' ongoing support in the form of very long-dated concessional loans and debt relief," S&P said in a statement.
---
More News:
Thousands rally in Greece to demand Republic of Macedonia change its name - Toronto Star
Fury in FYROM, Greece Over Rights to Macedonia Name - National Herald
15 investors interested in coal-fired plants sale - 4-traders.com
---
January 19, 2018
In Greece, nationalists seek momentum amid Macedonia talks - MSN
"Amid signs of a possible breakthrough, with new talks this week in New York between Greek and Macedonian negotiators, Greek nationalists plan to protest this weekend against any deal allowing Macedonia to use the name."
---
National Bank has eliminated its dependency on ELA funding - Capital GR
"According to sources the bank has not only managed to wean itself off costly ELA funds but already has surplus liquidity to draw on if liquidity conditions in the market deteriorate."
---
More News:
Greece closing in on end of bailout years - Washington Post
Whilst holidaying in Greece, I could see Pakistan in the little, everyday things - Dawn.Com
Two month closure of casino owing back wages in Greece - Tornos
---
January 18, 2018
Greece closing in on end of bailout years - Fox News
"A senior EU official ... said Thursday that eurozone finance ministers meeting next week had "a great willingness to say that, basically, nearly everything had been done" to complete its latest bailout review..."
---
NATO head urges Macedonia to end dispute with Greece, reform - AP
"Negotiators from both sides met in New York on Wednesday at a meeting held by the U.N. mediator on the issue. Shortly after the talks, the Macedonian government said the outcome would depend "on the willingness to compromise on both sides."
---
Banks strengthened but remain vulnerable - Naftemporiki
"In 2018, banks are being asked to adapt to new challenges, mainly by applying new accounting standards, tightening up the handling of forecasts for new Non-performing Exposures, and by undertaking a pan-European stress testing exercise by the ECB."
---
AP Explains: Macedonia-Greece name dispute goes back in time - Fox News
"The term "Macedonia" is a source of such nationalist fervor on both sides that the dispute has left the Balkan country without a universally recognized name and unable to join international institutions such as NATO."
---
More News:
Greece to Test the ADCOR Defense Adcor A-556 Elite Rifle - Fire Arm Blog
Greece, UNWTO Strengthen Ties at FITUR 2018 - GTP
FYROM media reports UN mediator's name proposals - eKathimerini
Most Greek CEOs Want Creditors to Scrutinize Government - Greek Reporter
Remarkable 4,500-year-old engineering feats discovered on ancient Greek 'pyramid' island - IB Times
---
January 17, 2018
Tourists reached 26 million in the January-September 2017 period - Athens News Agency
"...from non-EU-28 countries, travel traffic from Russia increased by 1.1% to 531 thousand travelers, while that from the US increased by 11.6% to 715 thousand travelers."
---
Dimitrov: Use of term "Macedonia" not exlusive privilege of Greece - Capital GR
"He noted Greece΄s concern that there is a "clear distinction" between his country and the Greek region of Macedonia, saying it was important for his country that there are no doubts as regards "matters of identity."
---
Surplus of 11.5 billion euros in the nine-month travel balance - Naftemporiki
"Overnight stays in Greece amounted to 188,272 thousand in January-September 2017, compared with 171,754 thou. in the corresponding period of 2016..."
---
More News:
Greece gets interest for new offshore oil and gas tenders - Reuters
Three investigated in Greece for insulting Turkish President Erdogan - Hurriyet Daily
Greece's Parliament Votes on Another Bailout Reform Package - WSJ
Cyprus, Greece and Jordan aim to bolster region's security - Washington Post
---
January 16, 2018
Piraeus Port Gets Ready To Welcome Mega Vessel - Greek Reporter
"At the start of January, Cosco — the Chinese-state owned shipping and logistics giant which also controls 80 percent of Greek rail cargo to central Europe — unveiled ambitious plans to expand at Piraeus. Cosco — which won a majority stake in the Piraeus Port Authority in 2016 — currently runs operations at Piraeus able to handle three 19,000 20-feet equivalent unit (teu) vessels with no draft limitation plus one 10,000-teu ship with a maximum draft of 13.8 meters (45 feet)."
---
In 'Macedonia' Name Dispute, Optimism In The Air - rferl
"At the forthcoming meeting, [UN mediator Matthew Nimetz] is expected once again to present the parties with a list of names that have been under discussion before, with only minor changes."
---
Greeks pay dear for mobile services - eKathimerini
"OECD data revealed this week that Greek mobile phone users pay much more for their service than the average European..."
---
After Years of Turmoil, Greece Is Close to Exiting Its Bailout - WSJ
"Athens hopes for post-bailout boost; program has been traumatic for citizens and strained the eurozone By Nektaria Stamouli Jan. 16, 2018 5:30 a.m. ET For Greece, there is finally light at the end of the tunnel. After nearly eight years of economic and political turmoil, the country is within striking distance of freeing itself from a bailout regime that has been traumatic for its citizens and has badly strained the eurozone."
---
Earthquake rattles Greece, felt in Athens - Straits Times
"The region has been active in recent days and the latest earthquake seems to be the peak of this activity, Papadopoulos said without ruling out the possibility of another earthquake. "Residents should remain calm," he said. "The data is in our favour."
---
Police, protesters clash as Greece reforms industrial action - MSN
Brief video report showing protestors (with comments from them subtitled in English) battling truncheon-wielding police.
---
Greece's Eurobank sees Balkan units doubling profitability -deputy CEO - IN
"Foreign operations contribute more than 50 percent of the group's profitability. Our immediate target is to grow this to 200 million euros (from 110 million)," Deputy Chief Executive Stavros Ioannou told reporters."
---
Greece plans three new bond sales to build post-bailout buffer - Kitco
"It expects to get about 9 billion euros more from official lenders in the coming months to build up the buffer and plans to raise about another 9 billion euros from markets by issuing three new government bonds."
---
More News:
Conditions are horrific at Greece's 'island prisons' for refugees. Is that the point? - Washington Post
Parliament Approves More Bailout Reforms Despite Protests - The Wire
Israel grants oil and gas exploration licence to Greece's Energean
---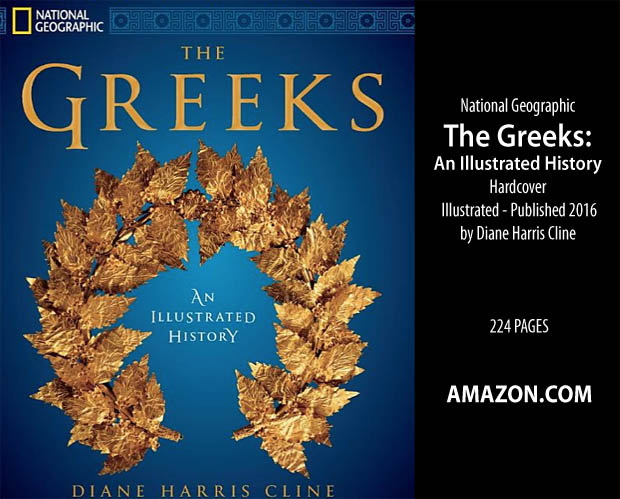 National Geographic The Greeks: An Illustrated History - AMAZON
---
January 15, 2018
Greece braced for strikes over planned move to limit industrial action - UK Guardian
"In the nearly nine years since its descent into economic crisis, an estimated 50 general strikes have been held in Greece with workers viewing industrial action as sacrosanct. Under the new law, Alexis Tsipras's leftist-led government has agreed that unions will have to have much larger quorums to enable strikes to be called."
---
New strikes in Greece as lawmakers debate new reform batch - ABC News
"Labor unions shut down all public transport in the Greek capital, while state-run schools and public hospitals also faced disruptions as teachers and doctors participated in work stoppages. Dozens of flights were being either rescheduled or cancelled due to a three-hour walk-out by air traffic controllers."
---
Greece to negotiate FREMM Frigate acquisition with France - navyrecognition
"According to Kathimerini, this move comes after a verbal agreement between Prime Minister Alexis Tsipras and French President Emmanuel Makron during his last visit to Athens last September. If an agreement can not be reached on the frigates because of their cost, the discussion will likely veer to the Gowind corvette."
---
The highest performance since 2001 with 143,535 new jobs in 2017 - AMNA
"In December 2017, there is an increase in wage employment in the private sector, as a positive balance of recruitment of 15,315 jobs is emerging. Specifically, according to the December 2017 employee employment figures, recruitment announcements amounted to 172,064 while retirements to 156,749."
---
Citizens to face foreclosures for debts over 500 euros to state - Protothema
"According to provisions in a report by the General Accounting Office, article 61 of the omnibus bill is amended regarding the classification of the State in case of compulsory foreclosures and seizures of movable or immovable assets..."
---
More News:
Greece set to allow medical cannabis use - Yahoo
EU Commission urges Greece to implement smoking ban - KTG
Greece's new restrictions on the right to strike leads thousands to protest - CSM
JP Morgan hires Papadopoulos to head Greece investment banking - Reuters
---
---
Touring Athens: Rick Steves Pocket Athens - Amazon
Rick Steves Pocket guidebooks truly are a "tour guide in your pocket." This colorful, compact 220-page book includes Rick's advice for prioritizing your time, whether you're spending 1 or 7 days in a city. Everything a busy traveler needs is easy to access: a neighborhood overview, city walks and tours, sights, handy food and accommodations charts, an appendix packed with information on trip planning and practicalities, and a fold-out city map.
---
January 14, 2018
Jenna Jameson slams vandals who targeted Holocaust museum in Greece - Fox
"Thessaloniki, Greece's second largest city after Athens, is in the process of constructing a new Holocaust Museum according to the Athens-Macedonian News Agency's radio station."
---
January 12, 2018
Transit Shutdown in Greece as Unions Strike for Right to Strike - VOA
"The bill pending approval in parliament Monday would reduce family benefits, introduce a new process for foreclosures on overdue loans and make it harder to call a strike."
---
Dasselblum: Tsipras and Tsakalotos have decisively changed the relationship with the European partners - AMNA
"The Dutch politician said that some of the measures that Greece had to take to improve its public finances was "extreme," but now discussions have shifted from austerity to reforms."
---
Greece strikes cause transport chaos, healthcare delays - France 24
"The amendment to a 1982 law sets a higher worker participation requirement for strikes to be decided at primary union assemblies."
---
More News:
Greece, FYROM hope for U.N. proposal this month in chronic name dispute - Reuters
---
January 11, 2018
Seizure of 'swimming bomb' highlights Greece's growing role in the fight against smuggling - Washington Post
"A representative for the Greek Coast Guard, Giannis Sotiriou, described the discovery as a "swimming bomb" that appeared to be on its way to civil war-torn Libya. "If something had gone wrong, the explosives would probably have destroyed the entire port," a senior Greek coast guard official said on Thursday."
---
Greece's Muslim minority hails change to limit power of sharia law - UK Guardian
"...the leftist-led government announced on Tuesday that members of Greece's 120,000-strong Muslim community would be able to seek recourse in Greek courts in divorce, child custody and inheritance matters rather than take their case to Islamic jurists – a century-old legacy of legislation drafted with the collapse of the Ottoman empire... while welcomed, Muslim MPs said the new law had not "fully abolished" sharia courts in the sole EU member state where they had been compulsory."
---
New US Travel Advisory Says Greece Safe Destination - GTP
"Greece is among the world's safest destinations, according to a new travel advisory system announced Wednesday, by the US State Department."
---
More News:
Macedonia and Greece vow to solve decades-old name dispute - NBC News
Television licenses: On Monday, the files of the six candidates open - Naftemporiki
Six people interested in UPD TV licenses - efsyn
Tsipras meets with Italian PM Gentiloni in Rome - Protothema
---
January 10, 2018
Greece bailout protesters storm ministry in strike dispute - BBC
"About 500 protesters from Communist-affiliated PAME burst into the ministry after breaking open metal shutters with crowbars, Reuters news agency reported."
---
New Project in Greece Aims to Decrypt Domestic Olive Cultivars - Olive Oil Times
"The aim is to fully decrypt and analyze the genetic material of domestic olive varieties in order to track the genre and descent of the cultivars and preserve different clones by documenting and safeguarding their structure. This will hopefully lead to branded products with a competitive advantage compared to rival products in the market."
---
More News:
No islets on Aegean Sea given to Greece during AKP period - Hurriyet Daily News
Greece Curbs Sway of Shariah Law - WSJ
Greece Scraps Compulsory Shariah for Muslim Minority - NY Times
Greece, FYROM to make new effort to resolve name dispute - Reuters
---
January 9, 2018
Greece to limit Sharia law after European Court challenge - ABC News
"Backed by parliament's largest political parties, the draft law is set to be voted on later Tuesday. The proposal aims to scrap rules dating back more than 90 years ago and which refer many civil cases involving members of the Muslim community to Sharia law courts. The new legislation will give Greek courts priority in all cases."
---
Senior Macedonia official in Greece for name dispute talks - Fox News
"...Athens says the name implies a territorial claim over its own neighboring region of Macedonia, and is seeking a so-called "composite name" solution."
More : Gov't brushes off Albanian media rumors of FYROM talks breakthrough - eKathimerini
---
Ferries and ships to remain docked as Greece's Seamen launch 24h strike - Keep Talking Greece
"The strike will start at 00:01 a.m. Friday, January 12th 2018 and will end Friday midnight."
---
The One Thing that Really Surprised Me About Athens Greece - Compass and Fork
"As an outsider, and a visitor, I have formed the view Greece is a pretty bureaucratic place and some central program to attack the graffiti may never happen. But I would think a few committed business people could get something done. If nothing else stop selling spray paint in the city. (This has worked other places.) Greeks are some of the hardest working people I have ever met, just direct some of that energy toward some paint!"
---
More News:
TAIPED to present plans to ministry for regional ports - eKathimerini
Greece, FYROM to make new effort to resolve name dispute - Reuters
Greece Turns on First DAB+ Multiplexer - Radio
---
January 8, 2018
Greece: Asylum for Turkish officer temporarily suspended - Fox News
"An Athens administrative court has accepted the Greek government's appeal to temporarily suspend the granting of asylum to one of eight Turkish officers who fled to Greece on a military helicopter after the July 2016 failed coup in Turkey."
More: Court freezes decision to grant asylum to Turkish serviceman - eKathimerini
---
Macedonia PM sees solution to Greece name dispute by July - MSN
"Elected last year, Zaev has staked his political capital on solving the name issue with Greece as a means to gain his country's accession to the European Union and NATO."
More: Macedonia's PM hopes for a solution to dispute with Greece by June
---
More News:
Wi-Fi coming to buses, trolleys, trams - Naftemporiki
Olympiakos beats Larissa 3-0, leads by 1 point in Greece - USA Today
PAOK, AEK win, share league lead - Chicago Tribune
Greece Denies it Seeks to Replace Archbishop Demetrios of America - Greek Reporter
Greece: 14 New Shipping-Related Firms Licensed In Piraeus - Shipping Herald
---

---
---
The Country Cooking of Greece - Amazon - 384 Pages
---
---
---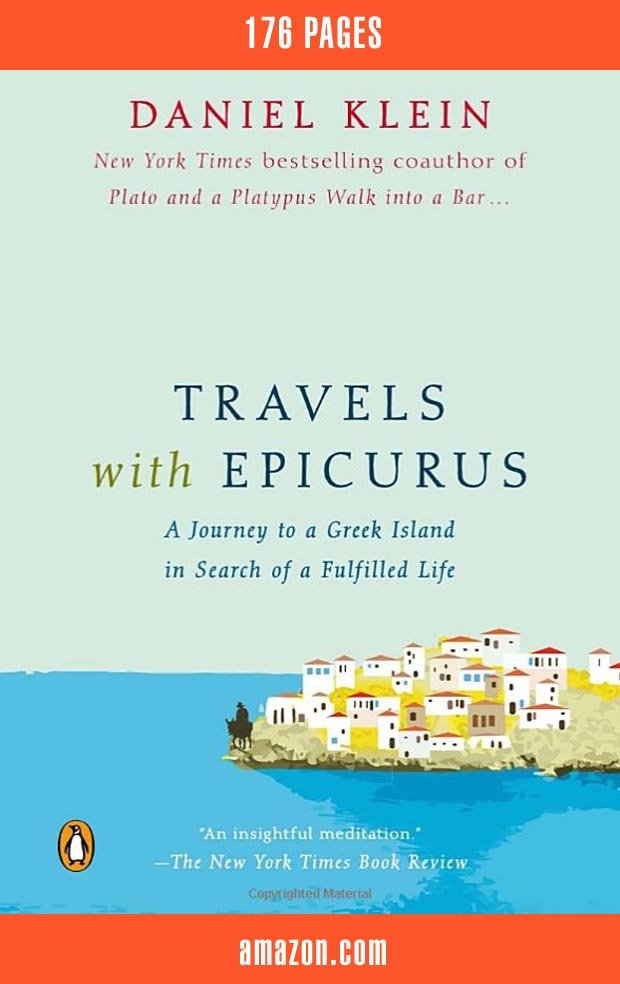 Travels with Epicurus: A Journey to a Greek Island in Search of a Fulfilled Life
---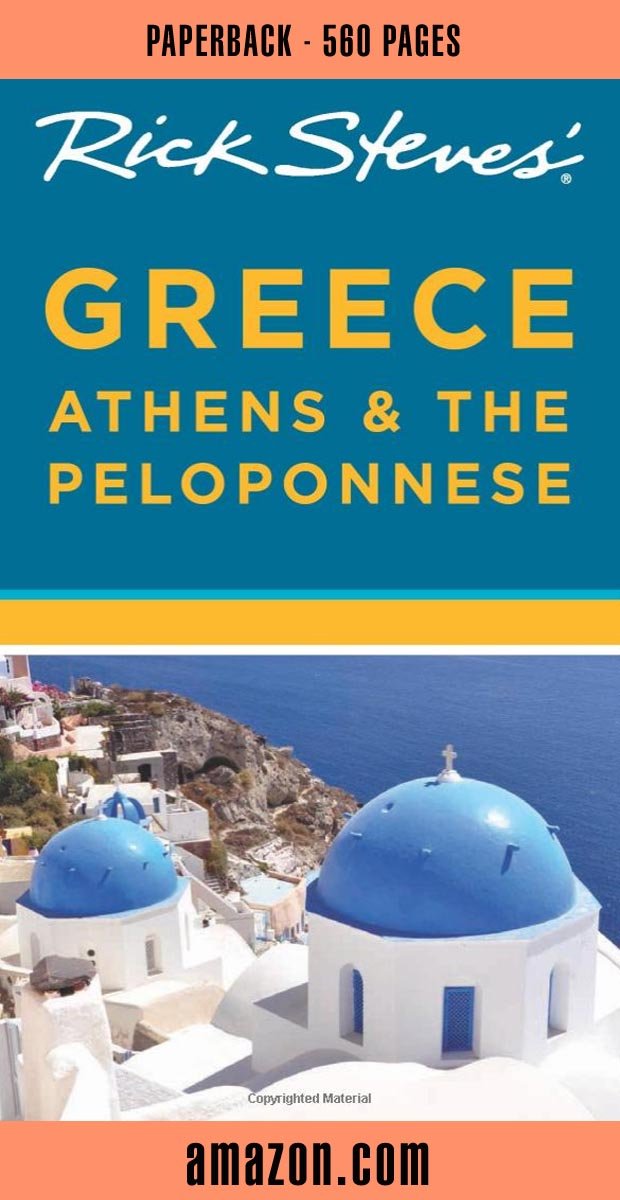 Rick Steves Greece: Athens & the Peloponnese
---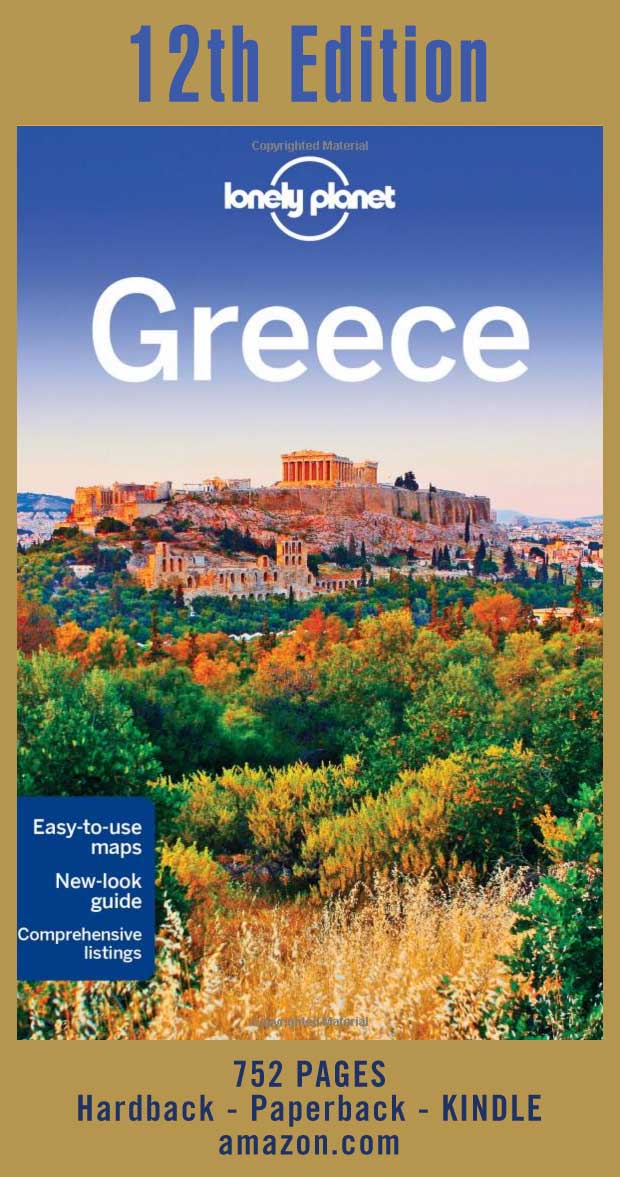 ---
---